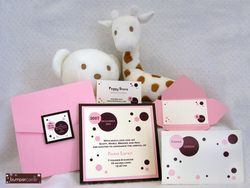 Dealing primarily with high profile personalities and distinguished clientèle, it is important that we carefully choose which products to present at each of our events. Being able to work with companies like Bumpercards, who are already familiar to many of our clients, makes our job a lot easier and ensures that we only provide the highest quality items
Los Angeles, CA (PRWEB) March 5, 2008
Bumpercards, a personalized stationery company, will be featured on the Montel Williams show airing Wednesday, March 5th, 2008 during the show's segment on the latest "must have" baby products. The appearance adds to the company's growing media exposure which also includes a recent feature in Star Magazine's influential "Hot Sheet".
Michelle Harwood, owner and lead designer at Bumpercards, says she is excited to once again join forces with The Silver Spoon in another high profile feature. "Having participated in The Silver Spoon's "Dog and Baby Buffet" charitable events, we are thrilled to be chosen once again by the premiere celebrity gift event company in the business" says Michelle.
"For a while now our little company has flown under the radar providing custom stationery products for a wide variety of discriminating clients. By having this opportunity to be featured on The Montel Williams Show, we are looking forward to showing our work to such a wide audience" she added.
With its close proximity to Hollywood, Bumpercards has long been a celebrity favorite when it comes to personalized stationery with projects that include: Children's stationery for Angelina Jolie and her children Pax, Maddox and Zahara, Courtney Cox and her daughter Coco as well as Brooke Shields and her daughters Rowan and Grier, among others.
Lorena Bendinskas, a partner in The Silver Spoon, which has organized gifting and events for such celebrities as Lindsay Lohan, Hilary Duff, Ashlee Simpson and The Oscars, is also excited to once again be working with Bumpercards.
"Dealing primarily with high profile personalities and distinguished clientèle, it is important that we carefully choose which products to present at each of our events. Being able to work with companies like Bumpercards, who are already familiar to many of our clients, makes our job a lot easier and ensures that we only provide the highest quality items" Bendinskas said.
About Bumpercards
Bumpercards is a stationery company located in Los Angeles, CA and provides high quality custom and personalized stationery products including: Custom Baby Stationery, Wedding Stationery, Monogram Stationery, Bar & Bat Mitzvah Invitations, Personalized Kid Stationery, Custom Announcements and Photo Cards. Existing as well as completely custom designs can be found on the company's website and at retail locations throughout the U.S.
###