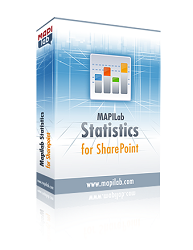 (PRWEB) May 11, 2011
MAPILab has released new versions of MAPILab Statistics for SharePoint – an effective solution for web-analytics, visitor behavior, and portal usage research for web-sites, which are based on Microsoft SharePoint platform.
Both new versions were released:
– MAPILab Statistics for SharePoint 2007 v.3.6.
– MAPILab Statistics for SharePoint 2010 v.14.3.
MAPILab Statistics for SharePoint is a well-known reporting and analytics software which has been on the SharePoint market since 2008. The product is improved and updated permanently.
There are important improvements in the new versions of the products.
First of all, export of the reports from web-parts, including information about applied filters. Web-parts with single or several required reports can be placed on any web-part page of a web-site. Now it is possible to export data from these reports into PDF or XLS files.
The second important feature is the customization of reports fields. This means that the administrator can define really necessary fields in every report and get the required data only.
The third important feature is the encryption of private data during data collection. The main idea is that some company (or even official) policies prohibit collection and processing of private user details (for example, names). This issue is solved in presented versions of MAPILab Statistics – all user details can be replaced with MD5 checksum, so the reports will contain only unrecognized characters instead of private data. It allows the users to analyze visitor activity but does not allow access to visitor private data.
Only the most important improvements are described above, but the full list includes more than 10 new added features.
"We already have tens of successful implementations of MAPILab Statistics for SharePoint in 2011 and, of course, all improvements and features in the new released versions are based on in-depth research of customer feedback and requests. So, we can declare that the new versions of the software will satisfy customer needs on a new, perfect level," comments Andrey Manchuk, MAPILab SEO.
MAPILab Statistics for SharePoint is designed specifically for use along with Microsoft Office SharePoint Server 2007/2010, Windows SharePoint Service 3.0 and SharePoint Foundation 2010. Data from the reports of MAPILab Statistics for SharePoint cover aspects of corporate web-site / portal, such as activity and behavior of the visitors, traffic and its dynamics, use of the site's content (including documents usage), use of search service, etc.
The 30-day free trials of MAPILab Statistics for SharePoint 2007/2010 are available at the software homepage: SPStats.com. MAPILab representatives will be glad to offer online consultations regarding MAPILab Statistics and assist in any deployment or licensing issues.
# # #