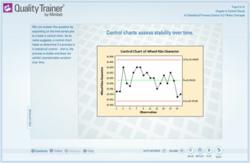 I don't use every statistical tool on a daily basis. Fortunately, Quality Trainer by Minitab is an excellent tool to quickly refresh a rusty statistical skill
State College, Pa. (PRWEB) May 10, 2011
Whether they call it Six Sigma, Lean, CQI or something else, statistics and data analysis form the foundation of quality improvement methods in business and industry. The problem for quality-minded organizations is that not all employees understand statistics—and even those who have statistical training need to refresh their knowledge regularly.
That's why Minitab, the leading provider of software for quality improvement, introduced Quality Trainer, an e-learning course focused on statistics for Six Sigma and data analysis with Minitab Statistical Software. It's been enthusiastically adopted by companies including Caterpillar, Cummins, Baxter Healthcare, the U.S. Postal Service, Wal-Mart and many more.
Now, to help more organizations increase the level of statistical skills among their employees, Minitab is offering a free webinar, "Meet Quality Trainer."
The hour-long webinar will be held on June 2, 2011 at 2:00 p.m. EDT (GMT-4:00). Participants will see how Quality Trainer can help them easily learn statistics and how to analyze their data using Minitab. Space is limited. Registration is free at http://www.minitab.com/training/web-events/.
This comprehensive, Web-based course prepares professionals for quality improvement training courses and serves as an ongoing resource. "Anyone can benefit from this opportunity to boost their statistical know-how and learn at their own pace," says Michelle Paret, product marketing manager at Minitab. "And with subscriptions starting at just $30 US per month, it's an extremely affordable way to develop your skills."
Quality Trainer's engaging, Web-based design makes difficult statistical concepts easy to grasp and gives professionals convenient access to an ongoing resource for their projects. Using narration, animation, and other multimedia, Quality Trainer teaches subscribers how to apply statistics and make the most effective use of their data.
The course delivers nine chapters of material covering basic graphical analysis and statistical inference, as well as more advanced techniques like process capability, analysis of variance and design of experiments.
"Quality Trainer lets you learn how to use these methods to solve real-world quality improvement challenges, and then practice your new skills immediately through hands-on exercises and interactive quizzes," says Paret.
Many companies are finding Quality Trainer gives employees a great way to review and brush up on statistical techniques they may not have applied recently. "In addition to my Six Sigma Black Belt position, I wear many hats at work," says Samuel Potter of Conestoga Wood Specialties Corp. in Lancaster, Pa. "I don't use every statistical tool on a daily basis. Fortunately, Quality Trainer is an excellent tool to quickly refresh a rusty statistical skill."
For more information about Minitab's quality improvement solutions, visit http://www.minitab.com.
About Minitab Inc.
Minitab Inc. is one of the world's leading developers of statistical analysis and process improvement software for academic and commercial users.
Minitab Statistical Software is the preferred data analysis tool for businesses of all sizes and is used in more than 80 countries by thousands of distinguished companies, including Toshiba, DuPont, Boeing, Royal Bank of Scotland, Nestlé and the leading Six Sigma consultants. It has been used to implement virtually every major Six Sigma quality improvement initiative, and to teach statistics in over 4,000 colleges and universities worldwide.
Quality Companion by Minitab is the package professionals use to plan and execute Six Sigma projects in companies around the world, including Xerox, ITT Industries, Providence Health System, Nissan North America, and LexisNexis.
Quality Trainer by Minitab provides easy access to quality statistics expertise whenever you need it. This subscription-based online learning service lets you learn or refresh your knowledge anytime and helps you use Minitab to apply statistics properly. Interactive lessons based on real problems make concepts easy to retain.
Minitab Inc., headquartered in State College, Pa., operates offices in the United Kingdom, France, and Australia, and has additional representatives throughout the world. For more information, visit http://www.minitab.com.
# # #