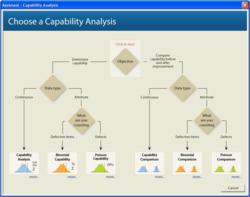 With Minitab 16, no one needs to be intimidated by statistics. You can be sure you're analyzing your data appropriately.
State College, PA (PRWEB) March 12, 2012
Statistics can be difficult, but it doesn't have to be. That's why Minitab, the leading provider of software for quality improvement, is offering a free webinar, "The Assistant: Your Guide to Data Analysis."
The hour-long webinar will be held on Tuesday, March 20, 2012 at 2:00 p.m. EDT (GMT-4:00). Participants will see how the Assistant menu in Minitab 16 Statistical Software makes hypothesis tests, control charts, process capability and regression accessible to everyone. Space is limited. Registration is free at http://www.minitab.com/training/web-events/.
The ability to perform basic analyses is particularly important in business, because proven quality improvement methods such as Lean Six Sigma rely on the ability to analyze data. Minitab added the Assistant to its latest release to help more people and businesses take advantage of the benefits of data-driven quality improvement projects.
"With the Assistant, no one needs to be intimidated by statistics," says Michelle Paret, product marketing manager for Minitab. "If you don't have a statistical background, or if you're just a little rusty, Minitab 16 removes that barrier. You can be sure you're analyzing your data appropriately with the Assistant."
The Assistant is a menu-based tool that acts as both a guide and interpreter of statistical analyses. This feature was designed to open the door to statistical analysis, so everyone can make more effective use of data to make the best decisions.
The Assistant contains interactive decision trees that make it easy to choose the right analysis. It has a simplified interface that is easy to understand, and includes guidelines to ensure each analysis is successful. It even provides output interpretation and comprehensive reports that can be used to easily and effectively present results.
Thousands of companies worldwide use Minitab to analyze data for quality improvement programs. It has been used in virtually every major Six Sigma deployment, and more than 4,000 colleges and universities use Minitab for teaching and research.
"Because it's so easy to use, Minitab lets you focus on improving your business, not learning statistical software," says Paret. "That's why it's also the most popular choice for teaching statistics in universities and even high schools."
Because it has been adopted by companies around the globe, Minitab 16 is available in English, French, German, Spanish, Simplified Chinese, Japanese and Korean. Documentation is available in several other languages.
Minitab 16 is the latest example of the company's efforts to provide the best tools for quality improvement. A free, fully functional, 30-day trial version of Minitab 16 is available at http://www.minitab16.com.
The company also offers Quality Trainer by Minitab®, an e-learning course that teaches statistics and serves as an ongoing resource for professionals who use statistics to implement quality improvement, and Quality Companion by Minitab®, process improvement software designed to help professionals manage and execute quality improvement projects from start to finish.
About Minitab
Minitab Inc. is one of the world's leading developers of statistical and process improvement software. Thousands of distinguished companies use Minitab software, including Toshiba, DuPont, Boeing, Royal Bank of Scotland, Nestlé and Wyeth Pharmaceuticals.
Minitab Statistical Software has been used in virtually every major Six Sigma initiative around the world, and is used to teach statistics in over 4,000 colleges and universities. Quality Companion® is used worldwide to plan and execute Six Sigma projects. Quality Trainer is an online e-learning course that teaches statistics for quality improvement. All Minitab products are backed by outstanding services, including training, e-learning opportunities and free technical support.
Minitab Inc., headquartered in State College, Pa., operates offices in the United Kingdom, France and Australia and has additional representatives throughout the world.
###