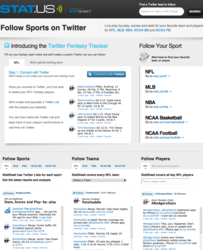 STAT.US fits in perfectly with our existing network of over 400 team web sites and Android and iPhone applications and helps us take the next step in improving tthe in-game experience for our users.
Durham, NC (PRWEB) November 30, 2011
Just in time for the fantasy football playoffs and the start of the college basketball season, StatSheet (http://statsheet.com) today announced the launch of STAT.US (http://stat.us), the world's largest sports-focused Twitter network. STAT.US utilizes StatSheet's unique artificial intelligence technology and proprietary database of over 2 billion statistics to bring live, in-game updates to fans on their favorite players and teams. STAT.US has both team and player-specific Twitter accounts covering the NFL, MLB, NBA and NCAA college football and basketball. STAT.US Twitter accounts already have over 250,000 followers who are updated with live game scores and important plays as well as pre- and post-game analysis.
As part of STAT.US, StatSheet has also launched the first ever Twitter "Fantasy Tracker" where fantasy football managers can quickly follow the individual players on their team and keep tabs on their fantasy roster's performance on game day via Twitter. STAT.US users receive live play-by-play, scores and statistical updates for the individual players and teams that they track within their existing Twitter feed.
"At StatSheet we are all about using technology to create the best possible experience for fans," says Robbie Allen, StatSheet's CEO and Founder. "STAT.US fits in perfectly with our existing network of over 400 team web sites and Android and iPhone applications and helps us take the next step in improving the in-game experience for our users."
Key Features of the STAT.US Network:

Team Accounts: followers of team accounts will get updates on scores, turnovers, key plays and win probability, as well links to StatSheet's ongoing analysis and interesting statistical insights on their team both past and present. STAT.US has active accounts for every NFL, NBA, MLB, and DI NCAA Football and Basketball team. Some examples: @cheeseheadhaven (Green Bay Packers), @Celts_Pride (Boston Celtics), @Cards_Update (St. Louis Cardinals), @CarolinaUpdBB (UNC Basketball), and @Fightin_TigerFB (LSU Football).
Individual Player Accounts: followers of individual player accounts will find a smorgasbord of information at their fingertips. For NFL players, they will get updates on every rush, every pass completion and every score, as well as end of quarter summary stat line updates for anxious fantasy owners. STAT.US currently has NFL player accounts for every significant offensive player and will be adding more player accounts for additional sports soon. Example accounts include @ARodgersStats (Aaron Rodgers) and @CJohnsonStats (Calvin Johnson).
#Hashtag Lists: users can also follow specific hashtags such as #TDTracker for the NFL to monitor touchdowns, #HRTracker for MLB to monitor home runs, and #UpsetTracker and #OTTracker for all sports to keep tabs on potential upsets and over-time games.
Fantasy Tracker: STAT.US gives users a quick interface to create and follow a Twitter list of individual player accounts so they can quickly track every play, score and update on their fantasy rosters.
The statistics for STAT.US are provided by StatSheet's official stats provider, The Sports Network (TSN). TSN's robust and flexible sports wire service enables StatSheet and its technology platform to quickly develop and deploy innovative, world-class products to sports fans.
About StatSheet
StatSheet is a subsidiary of Automated Insights, Inc. and represents the next revolution in content creation. StatSheet's technology automatically transforms raw data into compelling narrative content (articles, summaries, headlines), visual displays (charts, tables, graphs) and interactive applications (mobile and Twitter/Facebook–based social applications). In essence, the company uses technology to humanize big data, and automate knowledge and insight at scale. StatSheet converts a rapidly growing data set of over 2 billion statistics into comprehensive and compelling coverage of NCAA college basketball, Major League Baseball and the National Football League. The company currently publishes over 15,000 articles per month through its network of more than 400 team-centric websites, Android, iPhone and iPad mobile applications and Twitter and Facebook accounts. Later this year Automated Insights will launch its NCAA college football coverage. To learn more, visit http://www.automatedinsights.com and http://www.statsheet.com.
###