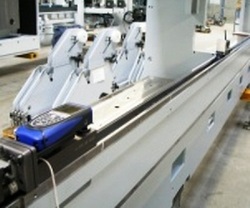 Richardson, TX (Vocus) September 29, 2010
Seifert Industrial is proud to offer the latest in geometric alignment technology, the T330 Rotating Laser for fast measurements and one-person operation. Most industrial machinery requires precision installations and periodic adjustment to ensure product quality and trouble free operation. These applications demand accurate level, flatness, and straightness. Traditional methods of ensuring these characteristics are slow and accuracy is questionable. But now, using the Status Pro system, speed and accuracy are easy to attain.
Using the T330 rotating laser, the user is able to project a flat "plane of light" across an intended measurement area. The R310 receiver is moved to each measurement position, and the dimension is displayed or recorded so corrective measures can be made. The T330 laser doesn't require an operator, and can be controlled remotely by the user, making it a true "one person operation". With a range of over 300 ft., the T330 can easily measure any machine. See video.
For machinery that requires LEVEL installation, the system can also "autolevel" with precision. Tolerances of 0.0002 in/ft. are possible. These applications include pump bases, conveyors, overhead cranes, slewing rings, machine tool installations, converting operations, and others. For straightness, the R525 receiver has an accuracy or 0.0000787 inch in the X and Y axis, which can be measured simultaneously. The laser and receiver are battery operated, eliminating the need for cumbersome power cords.
Software and industrial rated notebook computers are available to produce a 3D map of the measurement points without leaving the jobsite. The user can also project his tolerances onto the 3D map, or determine the best fit solution. Users have reported collecting and recording over 200 points in 2 hours, allowing for a quick solution, and faster returns to high quality and high production. Any member of the millwright or maintenance crew will be able to use this system effectively.
Seiffert Industrial, Inc., has been in the laser alignment business for 19 years and recently became the master distributor for Status Pro geometric laser alignment systems. Through Seiffert, the user can obtain necessary information quickly, accurately, and with excellent documentation. The result of the partnership between Status Pro's quality products and Seiffert's knowledge and availability is a universal system capable of measuring many geometrical features on different components including straightness and
flatness and level.
More about Seiffert Industrial, Inc: Seiffert Industrial specializes in precision laser alignment systems for the industrial and aerospace market and has been a leader in laser alignment since 1991. For more information about our pulley laser alignment and parallel roll alignment systems, please see our website at http://www.seiffertindustrial.com or call us at 800 856-0129 (US only).
###