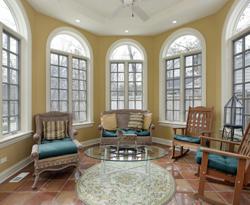 "I help homeowners discover and solidify their home renovation style. I have a passion for the role that home plays in the life of families. Home is the one place you should look forward to." ~ Liz Sprenger
Minnetonka, MN (PRWEB) February 19, 2013
Housing Economics' recent study shows that, based on a long-run calculation that averages mobility tendencies over a number of years, the typical home buyer averages a stay in their home of approximately 13 years before moving on. Homeowners planning a long-term stay, find lakefront homes offer a place to live, vacation and retire.
Destiny Homes owner Butch Sprenger says: "Families preferring to stay in their homes longer are more likely to do a full house makeover or major home renovation. Their goal is to enjoy more time at home, putting a higher priority on quality time with family and making home a haven. For those opting for a lakefront home, it merits great character and architecture to the rear exterior of the home as much as the front."
The study, called "Latest Calculations Show Average Buyer Expected to Stay in a Home 13 Years", uses the latest data available from the 2011 American Housing Survey (AHS), funded by the Department of Housing and Urban Development (HUD) and conducted in odd-numbered years by the Census Bureau. The new data reflects the trauma in recent years of the housing market, and, if housing analysts were to draw a number based only on mobility rates calculated from the most recent data—the expected homeowner's length of stay would be more like16 years.
Additionally, The National Association of the Remodeling Industry (NARI) was upbeat in its latest quarterly survey and summary of 2012 home renovations. It said two-thirds of respondents had a positive view of U.S. home renovations activity in the first quarter of 2013.
Destiny Homes Ideas For Lakefront Home Renovations:
1) Kitchen Renovations With Center Islands - Open-concept kitchens remodels remain popular with a center island to accommodate today's homeowners who turn gourmet chef come evening. Restaurant-inspired cooking areas are custom built in. There may be a prep area for vegetables near the main sink, a baking station near the Wolf oven, and a bar area with a second sink and mini-fridge in the island. A well-organized kitchen and pantry are musts haves on everyone list.
2) Remodeled Living Rooms And Fireplaces - Home improvement projects often include an expansive living room large enough for entertaining groups, and favor centering around the warmth of a fireplace for enjoying more moments at home.
3) Sun Room Additions To Highlight Lakeside Views - Breathtaking "ocean like" vistas allow fortunate homeowners to maximize the pleasures of living on or near one of the Twin Cities many lakes. Windows fill entire walls overlooking the lake that carry the room through the day from enjoying full sunlight in the morning to soft lighting in the evening - perfect for watching the boats as they settle in at local marinas.
4) Remodeled Formal Dining Rooms With Modern Lighting - Luxury dining rooms with modernized lighting are coming back as families welcome more time at home together. Custom wainscoting creates a fine dining atmosphere and adding a bay window gains an additional seating area that extends the room. A window seat set apart with a couch, chandelier and standard lamps is another alternative. Furnishing may include custom make serving tables from local vines and branches.
5) Sunlight Filled Front Entries - Prominent entry doors dead center in the front of the house take a commanding presence. Lakefront home makeovers often prefer a home's entry doors with windows that allow daylight-filled homes that reflect a home's sunny side and set a cheerful tone. A home's entry can introduce two and three levels with sweeping stair cases, rolled banisters, and windows that invite the fun of the lakeside to every guest.
6) Master Bedroom Additions With Bath Suite And Balcony - Stand-alone bathtubs that are deep with styled feet and form provide for a wonderful full-body steeping when it is too cool to bask in the waters. Master bedrooms are a more private space and are designed to please and relax in. Possible inclusions are a fireplace, sitting room, steam room, deluxe his and her closets, and balcony to slip out and enjoy sunrises and sunsets over the lake.
2) Two and Three Car Garages With A Room - The garage has become as important as the home. Three car garages with a room above extend a home's living space. Garages offer key storage space with ready access to tools, sports and boating items. A guest house over the garage may be the perfect spot to add private quarters that offer their own lakeside views.
Home renovations, whether starting from homeowners dreams or a broken pipe, can result in becoming the home a family wants to live in for a lifetime. Call Destiny Homes at 952-934-5706 and ask for Butch or Liz Sprenger to get started.