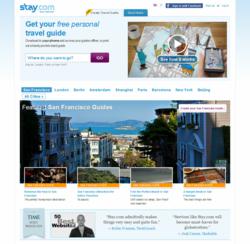 Travel planning should be social. Stay.com now empowers users to discover new, interesting destinations together.
Oslo, Norway (PRWEB UK) 17 December 2011
TIME Magazine's top travel startup of 2010, Stay.com (http://www.stay.com/) has introduced a string of new features this week to its already acclaimed online platform that help travelers do more with their DIY travel guides. From now on, Stay.com users can ask for suggestions from friends, family and the public, to improve their destination guides with the best attractions, hotels and restaurants.
Each guide can be publicly shared on Twitter, Facebook, and via email with a single click, allowing users to overcome the hardest part of travel planning: finding inspiration from people in the know.
Anyone with a Stay.com account, who's invited to suggest a place for the user's guide, can offer local destination ideas by searching any place in the city. As Stay.com's proprietary search engine gathers data from both Stay.com own database, as well as Google Places - users can find any business registered in the city. Even personal places can be suggested (like home addresses) - simply by dragging-and-dropping a marker onto the map. Then, the owner of the guide can accept the best suggestions, and discard those less interesting.
With the new social collaboration aspect of the travel-planning platform, visitors and existing users will find a free online experience where travels are envisioned, planned, booked, stored, shared and ultimately printed in .pdf format as a personal and unique travel guide. iPhone and Android users can download the specific Stay.com apps free of charge, to enjoy custom travel guides and maps from their phones any time, even offline, and without paying a dime for roaming.
About Stay.com:
One of the top 50 websites of 2010 according to TIME Magazine, and the top startup in its category, Norwegian Stay.com is an online trip-planning platform that allows users to create custom travel guides for each destination they want to visit. Users can add venues such as hotels, restaurants, bars, shops, museums, and other attractions, with just a click, to create a travel guide that suits their needs and tastes. In addition to a platform for creating DIY travel guides, Stay.com offers users the means to book hotels and reserve restaurants directly on site, and via smartphones. For more information visit Stay.com, or follow Stay on Facebook (http://www.facebook.com/staydotcom) and Twitter @staydotcom (https://twitter.com/#!/staydotcom).
###