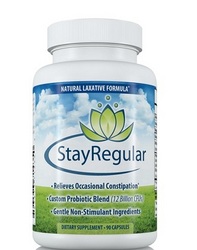 Constipation doesn't have to be a way of life.
Austin, TX (PRWEB) February 15, 2011
Why do one in six Americans still deal with occasional and chronic constipation despite so many advances in medicine? A major reason is that typical constipation remedies don't address the nutritional deficiencies that cause constipation in the first place. As a result, consumers are forced to look to unpleasant stimulant laxatives for relief. With the launch of its new nutritional supplement StayRegular™, Bulgaricus introduces a healthy alternative to stimulants for those struggling with constipation, bloating, and gas.
StayRegular provides constipation relief with its four-pronged approach that includes probiotics, minerals, vitamins and non-stimulant herbs. "Constipation doesn't have to be a way of life," said Jeff Fields, Chief Executive Officer, Bulgaricus. "In fact, a few nutritional tweaks take care of it for most people. StayRegular simply puts all of those tweaks together in one bottle to provide nutrients that many Americans are lacking."
Magnesium is one of those nutrients. The USDA Agricultural Research Service estimates that nearly half of Americans do not get enough magnesium from food and water sources. This prevents the nervous system from activating a healthy digestion response and leads to constipation. For most Americans, the solution is to begin an endless regimen of laxatives that include synthetic chemicals, stimulant herbs, and fiber supplements. Although these methods may offer temporary relief, they don't address underlying causes of constipation and are often ineffective.
"People are tired of mixing a bunch of fiber into water and crossing their fingers that it will work," said Fields. "Fiber is only part of the solution and by itself doesn't work much of the time. Then folks turn to stimulant laxatives, like senna, and it just isn't healthy to go that route."
Most laxatives on the market have just one active ingredient – a stimulant like senna or bisacodyl. These stimulants raise health concerns over long-term use due to changes they cause in the colon. StayRegular is the first non-stimulant natural laxative that supports digestive function by nutritionally balancing the body. In addition to magnesium, one of the ways StayRegular supports this balance is through supplementation with beneficial bacteria (probiotics) and the fibers that feed them. StayRegular provides eight different species of probiotics as well as other nutrients to act as a holistic constipation remedy.
Janet Benaski began her struggle with constipation after suffering a neck injury and taking the medication, Lyrica, to deal with the pain. "The Lyrica worked wonders for my pain, but shut down my digestion," said Benaski. "I tried different kinds of fiber and stool softeners with no luck. I finally had to resort to stimulant laxatives, though I was worried about their effect. Then I found StayRegular and it totally rebalanced my system within weeks. My system is working better than ever and I feel much better than when using the stimulants."
With 63 million people suffering each day, Bulgaricus hopes to inform people like Janet that there are healthy alternatives that work.
About Bulgaricus
Bulgaricus is a nutritional supplement company focusing on digestive care and based in Austin, Texas. All products are produced using Certified Good Manufacturing Practices (cGMP) and the finest ingredients. StayRegular is sold exclusively online. More information can be found at http://www.stayregularnow.com or by calling 512-981-6862.
# # #