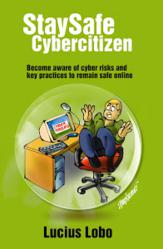 Mumbai, India (PRWEB UK) 4 February 2013
With the increasing crime, abuse and fraud while using the Internet and social networks, a timely e-book on internet security has been launched for individuals, consumers, traders, corporate, parents, bloggers and social networkers. This e-book aims to make people aware using simple examples and real life incidents of key risks and practices to remain safe online. This book is written by Lucius Lobo, who is an Indian cyber security expert.
Cyber criminals are coming up with increasing sophisticated ways and means to dupe cyber users in scams, siphon money from their online accounts or to harass them. To reduce this, "StaySafe CyberCitizen" is in a sense, a boon for net users, which covers topics such the basics of cyber crime, best practices in online trading, email scams, employee blogging, cyber parenting and child safety, online ethics, online banking, how hackers earn and security insights for consumers and security professionals as well.
About Lucius Lobo-
Lucius Lobo is an experienced security professional, and the head of a large security consulting practice. He is a Certified Information Systems Security Professional (CISSP), with over twenty years of experience in the security industry and a member of national and international global security councils. Lucius is a regular speaker at security conferences and has publications in leading and reputed magazines.
Reading the ebook "StaySafe CyberCitizen" helps cyber users analyze key risks, take prudent steps and use best practices to make safe their online journeys.
Twitter @luciuslobo