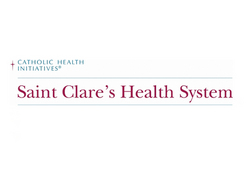 Waits to See An Emergency Department Physician: U.S. Trends and Predictors, 1997-2004
Denville, NJ (PRWEB) May 6, 2008
Denville, N.J. May 6, 2008 -- In an effort to make emergency care more convenient and efficient for its patients, Saint Clare's Health System, a member of the Catholic Health Initiatives, announced today that its Emergency Department 30 Minutes Door to Doctor Program has reduced patient overcrowding and congestion by fast-tracking the emergency room process, resulting in an average wait time of 30 minutes or less for all non-critical emergency room patients. Patients with life-threatening issues will continue to be seen immediately.
Since launching the ER 30 Minutes Door-to-Doctor Program on January 2 at emergency rooms on Saint Clare's hospital campuses in Denville, Dover and Sussex, 80 percent of its patients have been seen by a physician or physician's assistant in 30 minutes or less. Saint Clare's promising statistics will help change the healthcare industry trend noted in a January 2008 Harvard Medical School study* that found, from 1997 to 2004, emergency room waits increased an average of 36 percent. The study also found that as emergency room patient volumes continue to increase throughout the U.S. and spiral out of control, patients face even longer waits in emergency rooms.
After Saint Clare's Hospital/Denville received a national Patient Satisfaction Award in 2006 and was named "best in emergency patient satisfaction for a large hospital" by HealthStream Research, the staff embraced a 'we can get it done' attitude. Saint Clare's had been working on a plan to decrease the emergency department wait times and the concept of seeing a patient within 30 minutes from their arrival in the emergency room then evolved.
Improvements to ER Waits Embraced by Saint Clare's Staff
"This program is not something you can just flip a switch and expect everyone to adopt. It meant that you had to have more skip in your step when you saw patients because you really have to have a hustling crew," says Charles Flinn, vice president of Emergency Services at Saint Clare's Hospital in Denville. "I had a vision and I could not have done it without the people who executed it - the physicians and nurses really came together to make it happen."
It took a hospital-wide initiative to ensure fast-tracking the emergency room triage, which resulted in faster treatment for patients and a reduction of overcrowding in emergency waiting rooms to create capacity for new patients coming in the door. When someone is admitted to the hospital, Saint Clare's goal is to move them out of the emergency room and into a room quickly in a comfortable fashion in less than two hours.
"In addition to fast-tracking patients for decreased wait times, it is very important that they receive appropriate, comfortable care because our ministry and our mission is that we see to all their needs, which include physical, emotional and spiritual," adds Flinn.
The launch of the ER 30 Minutes Door to Doctor Program did not require the hospital to change its current infrastructure. No additional staff was needed and during busy times, Saint Clare's hospital administrators allocated the appropriate amount of personnel to fast-track triage care. The hospital was already equipped with a state-of-the-art, computerized x-ray center and lab equipment was in place for quicker lab results. Flinn points out that the cost for the program is less than one dollar per patient to provide faster and improved care. Patients just know that they are getting care faster, at no added expense to them.
In 2006, Saint Clare's average time to see a physician in the emergency room averaged 47-50 minutes. Now with the launch of the new program, Saint Clare's has been able to cut average wait times to 26-27 minutes - resulting in a 50 percent improvement.
Saint Clare's Patients Receive the 'Personal' Touch
Flinn pays close attention to his emergency room patients and if a patient has more than a 30 minute wait, he sends them a personalized, hand-signed letter alerting them to the new program and tells them how long they waited beyond the 30-minute expectation. "Nearly 85 percent of the patients that I cannot get to in 30 minutes, I get to in the 31-38 minute range," says Flinn. "I want patients to know that I am watching very closely. I apologize when we keep anyone longer than 30 minutes and let them know that if they ever need us in the future that we'll be here to care for them as quickly as possible."
Saint Clare's goal is to increase the ER 30 Minutes Door to Doctor Program success rate to 90-95 percent by July 1 of this year.
"We are proud that we are working together as a team to make emergency room visits at Saint Clare's hospitals a more positive experience for the people of our community," adds Flinn. "The concept of care begins from the moment you arrive at one of our hospitals and continues until you leave through its doors."
About Saint Clare's Health System
Saint Clare's Health System has served the healthcare needs of northwestern New Jersey residents since 1895 and is the region's premier provider of community-based healthcare and behavioral health services. It operates four hospital campuses in Boonton Township, Denville, Dover and Sussex and a host of other facilities throughout the region. With 3,500 employees, over 700 volunteers and a medical staff of over 700, Saint Clare's is one of its region's largest employers and offers a full range of comprehensive medical services, including maternal/child health, cancer care, cardiovascular care, emergency services, pediatrics, behavioral health, general and robotic surgery, joint replacement, and physical rehabilitation. For more information, call-1-866-STCLARE (866-782-5273) or visit http://www.saintclares.org.
*Health Affairs: Cambridge Health Alliance, 15 January 2008; "Waits to See An Emergency Department Physician: U.S. Trends and Predictors, 1997-2004"
###