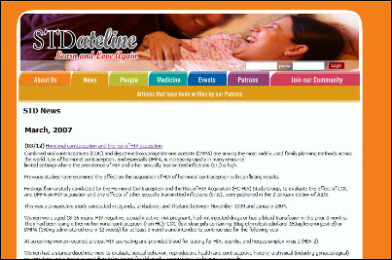 In the past few years, we've heard many stories from friends, family and acquaintances about being diagnosed with a sexually transmitted disease
(PRWEB) March 19, 2007
LeMay Industries, LLC, a new home-based business, today announces its online support network for people with sexually transmitted diseases (STDs). STDateline will provide its members with a safe, non-judgmental community, filled with resources and information to help educate the public about sexually transmitted diseases.
"In the past few years, we've heard many stories from friends, family and acquaintances about being diagnosed with a sexually transmitted disease," co-founder Andrew LeMay said. "Each person had a different story, different reaction and different way of coping with the diagnosis. The more we listened to their stories, the more we wanted to get involved and help, which is why we created STDateline."
LeMay, a stay-at-home father, and his wife, a clinical psychology doctoral student, created the home-based business after their son was born, so LeMay could be with him during the day while still pursuing his dream of helping people.
In their research, the LeMays found that most of the STD resources on the Internet focus on the physical symptoms, social support or dating -- all essential aspects of living with an STD. This information, however, ignores the underlying issues of sexually transmitted diseases, such as substance abuse, anxiety, depression, damaged self-esteem, and other psychological issues that have an impact on the quality of relationships, safe sex and the ability to recover physically and emotionally after an STD diagnosis.
At STDateline.com, people will have the resources to understand the emotional and psychological implications of sexually transmitted diseases, as well as learn about their physical symptoms. In addition to a wide range of resources, the Website posts many relevant news, updates and events from reputable pharmacological, medical, mental health and non-profit sources.
"STDateline.com is a place where people have the privacy, time and support to adjust and accept their overwhelming emotions," LeMay said. "Moreover, it is a place where they can accept that even an undesirable diagnosis does not end their social and intimate relations, though it does add another layer of responsibility in how they approach future relationships."
For privacy purposes, the community charges a small membership fee to cover the Web site's costs but does not accept advertising, does not participate in affiliate programs and does not sell any of the information to third parties.
For more information, please visit http://www.STDateline.com.
About STDateline
STDateline, a Web site operated by LeMay Industries, LLC, home-based business, is an innovative social networking community created to assuage the physical and emotional pain caused by sexually transmitted diseases. The site's interdisciplinary approach encourages collaboration between patrons from the fields of medicine, pharmacology, psychology, nutrition and non-profit social services to bring the most current developments to our subscribers.
Contact:
Andrew LeMay
623-536-5329
alemay @ stdateline.com
# # #