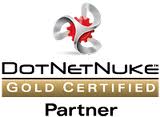 SteadyRain has been awarded over thirty awards and accolades for its success in DotNetNuke web development and design.
St. Louis, MO (PRWEB) July 12, 2012
Award-winning, full service digital agency based in St. Louis, MO, SteadyRain, announces Gold Partnership with the DotNetNuke (DNN) Corporation, the leading open-source content management system (CMS) for the Microsoft stack, with over 700,000 websites deployed worldwide.
An established thought-leader in the fields of web development, mobile technology, and online marketing, SteadyRain has over ten years of working within the DotNetNuke framework. The agency has developed numerous robust module solutions and custom skin designs for its client base, which has provided SteadyRain the experience and knowledge to expertly execute desired DotNetNuke services and solutions.
"Being recognized as a DotNetNuke Gold Partner is an honored achievement for SteadyRain," said Thompson Knox, Executive Vice President of SteadyRain. "Our dedicated team of developers produce DotNetNuke work that continuously exceeds expectations and pushes the development envelope. Now, classified as a Gold DNN Partner, it places us squarely among the other best-in-class DotNetNuke design and development firms–a title we firmly believe matches not only our skill set but also SteadyRain's award-winning solutions."
SteadyRain's DNN experience has touched a myriad of different industries, which include Financial Institutions, Tourism and Travel, Consumer Packaged Goods, Healthcare, Education, Non-Profits, and Government. As a result of creating solutions that increase revenue and efficiency while decreasing costs across a broad spectrum of industries, SteadyRain continues to develop international award-winning development solutions. In the past ten years of working with DotNetNuke, SteadyRain has been awarded over thirty awards and accolades for its success in web development and design.
As a Certified Gold Partner, SteadyRain will continue to work hard at achieving award-winning DotNetNuke partner excellence by creating solutions that exceed the clients' visions and produce desired results.
SteadyRain currently holds certifications in 100% of the areas available to DNN partners, which include Administration, Hosting, Module Development, Professional Licensing, Skin Design, and Web Development.
To view examples of SteadyRain's DotNetNuke services at work, please visit the SteadyRain site.
About DotNetNuke Corporation
DotNetNuke software is used by developers, designers and business people to quickly build and easily maintain websites of all kinds. We are the number one Web content management solution and adaptive web solution in the Microsoft ecosystem -- more than 700,000 websites have been deployed worldwide using our products. Our online store speeds up this process by offering more than 10,000 apps and add-ons that quickly and easily extend our product. Thousands of organizations like True Value, Bose, Cornell University, Glacier Water, Dannon, Delphi, USAA, NASCAR, Northern Health, and the City of Denver have leveraged DNN to deploy highly engaging business critical websites. There have been over 7 million downloads of our open source project, which fuels an active global community one million strong. The rapid growth of our commercial products resulted in DotNetNuke Corp. being named as one of the fastest growing private companies in America on the 2011 Inc. 500 list. Founded in 2006 and funded by Sierra Ventures, August Capital and Pelion Venture Partners, DotNetNuke Corp. is headquartered in San Mateo, California, with offices in Vancouver and Amsterdam.
About SteadyRain
Internet Strategy | Design | Development | Mobile | Online Marketing
SteadyRain is a privately held digital agency that works closely with each of its clients to create unique and profitable Internet strategies through consulting, strategic planning, website design and development, online marketing solutions, web application development, and mobile application development. SteadyRain has been helping businesses and organizations develop their online strategies, increase revenue, and decrease costs since 1999, having worked with clients such as Conoco Phillips, Great Rivers Greenway, the Missouri Botanical Garden, the Missouri Division of Tourism, Nestlé Purina, Novus International, and Washington University in St. Louis. For more information about SteadyRain, please visit http://www.SteadyRain.com.