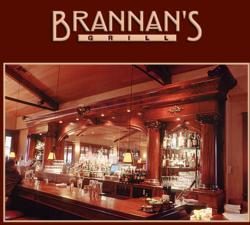 Each year, gardeners plant the tomato vineyard in rich alluvial soils on the owner's ranch near the Napa River, and the results are as beautiful as they are delicious
Calistoga, CA (PRWEB) October 04, 2012
Brannan's Grill, a Napa steak house and destination restaurant, continues to be on the "tomato knife" edge of Napa Valley restaurants. As the summer growing season reaches its peak, Brannan's is featuring the freshest tomatoes from its estate gardens located on Silverado Trail.
"Each year, gardeners plant the tomato vineyard in rich alluvial soils on the owner's ranch near the Napa River, and the results are as beautiful as they are delicious," Mark Young of Brannan's Grill said.
Purchased as "sets" from the famed Forni-Brown gardens, purveyors to legendary Bay Area chefs for decades and planted in early April, Brannan's garden bounty includes more than 30 varieties of heirloom tomatoes that are often served only hours from the vines.
"At Brannan's Grill we strive to ensure that each dish meets the same high standards of excellence that we've built our reputation upon. We pride ourselves on using the best local ingredients available and in fact were 'farm to table' before it was popularized," Young said.
As one of Napa's best restaurants, Brannan's menus have developed and evolved in a thoughtful and intentional manner. A tumultuous end to winter and the beginning of spring have brought beautiful vegetables, beets, peas and beans. It is taking full advantage of the garden's results by creating delicious meals combined with the top restaurant's finest steaks.
"You can dine assured that when enjoying a meal in our Napa steak house, you're savoring quality beef, fresh seafood and farm fresh local produce," Young said.
For more information about Brannan's Grill, call 707-282-5336, view the steak house on the Web at http://www.brannansgrill.com or visit 1374 Lincoln Ave. in Calistoga.
About Brannan's Grill
Brannan's Grill is a top-ranking steak house in Napa Valley that serves a fine selection of wines and exquisite dishes. Open for lunch, dinner, brunch and private parties, this dining experience easily ranks it among the top restaurants in Napa Valley.