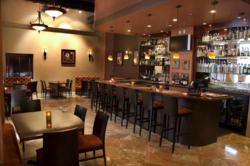 Our friendly and professional staff is here to serve you on St Patrick's Day or any day of the year
San Mateo, CA (PRWEB) March 16, 2012
The contemporary San Francisco/San Mateo steakhouse, Porterhouse Restaurant, is inviting diners this March 17 and March 18 to savor its special St. Patrick's Day menu of corned beef and cabbage.
"Our friendly and professional staff is here to serve you on St Patrick's Day or any day of the year," Hamdi Ugur of Porterhouse Restaurant said. "We take great pride in providing a fine dining experience to each and every customer."
Porterhouse Steakhouse offers daily lunch and dinner menus and a wide selection of dining options, from kobe beef hamburgers and garden salads to fresh crab cakes and saffron risotto. Porterhouse also now offers a happy hour seven days a week from 5 p.m. to 7 p.m. and a new wine list for everyone to enjoy.
San Mateo's private dining Porterhouse Steakhouse is the San Francisco Bay Area's premier location to enjoy fine cuts of steak and fresh American cuisine. It receives fresh crab and mussel deliveries twice daily, and its friendly and professional staff take pride in delivering world-class service alongside world-class entrees. Porterhouse also features a stunning cocktail bar and lounge, as well as cozy private booths and tables. In addition, the restaurant offers special private dining rooms designed to deliver an intimate experience for special events.
For more information about the St. Patrick's Day menu or any of Porterhouse Restaurant's products or services, call 650-425-3283, view the steakhouse on the web at http://www.porterhousesanmateo.com or visit 60 East Third Ave. in San Mateo.
About Porterhouse Restaurant
Porterhouse Restaurant in San Mateo is the San Francisco Bay Area's fine dining location for a premier steak dinner. The restaurant features a wide selection of choice cuts, including filet mignon, prime rib, New York and the famous Porterhouse cut. Porterhouse Restaurant uses only USDA-certified angus beef and takes pride in serving the freshest and most savory cuts, cooked exactly to order.