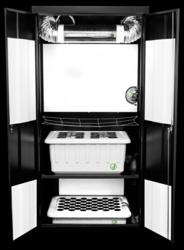 San Francisco, CA (PRWEB) April 19, 2012
Always in the lead for hydroponic innovation, SuperCloset has improved the design of the Deluxe over the last 10 years. Only the best and highest grade hydroponic equipment and components are used to manufacture the Deluxe 3.0. The Deluxe 3.0 features Lumatek ballasts, high-grade cool tube reflectors and bulbs. In addition, the Deluxe boasts best in class airflow with the combination of an oversized carbon filter that removes waste odoriferous air, an air-cooled lighting system that maintains a constant cool temperature in the cabinet grow box between 70-80 degrees F, and the internal circulation fan that moves air around the cabinet grow box which is crucial for vigorous plant growth as it re-creates the outdoor environment in the indoor grow room. The Deluxe 3.0 is encased in a 16-gauge steel cabinet so it fits right in with the rest of customer's lifestyle and living surroundings.
Every single imaginable component needed to begin a successful indoor growing project is included in the Deluxe 3.0 making it the best grow box choice for the person that wants to spend time growing; not searching for components. The Deluxe is the highest yielding stealth grow box because of the increased grow space and design.
About SuperCloset:
SuperCloset takes the guesswork out of growing through manufacturing the most innovative and customer friendly hydroponic systems and turnkey grow box units. After 10 years SuperCloset continues to lead the horizontal and vertical growing industry with its commitment to excellent products and world-class customer service.