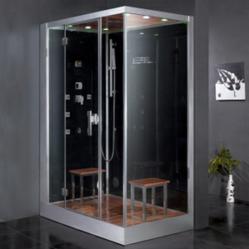 Heat+waters is a pretty magical combination for the health, which is why private steam baths and saunas are starting to become common even in our quick shower in the morning culture.
(PRWEB) October 10, 2012
HomeThangs.com – the Home Improvement Super Store has made their goal to deliver the right product to the consumer, with that in mind, shopping and home design tips, as well as special product selections are being introduced.
Heat+water is possibly the best combination ever devised, - hot baths, hot showers, steam baths, saunas, hot springs etc. Truth be told, heat+waters is a pretty magical combination for the health, which is why private steam baths and saunas are starting to become common even in our quick shower in the morning culture. HomeThangs.com introduced a tip sheet to explain the health advantages of sauna and steam bath.
1. Good for the Heart
Raising body temperature makes the heart work just a little bit harder, which improves blood circulation like a little kick start to really knock everything else in the body into action. Those who have a heart condition should consult a doctor before cranking the heat too high or spending too long in a very hot whirlpool tub, but for everyone else, a steam bath or sauna can help keep that oh-so-important muscle in prime condition.
2. Circulation Is Good for Skin
As to the myriad of benefits offered by improved circulation, one that one might not expect is that it's actually good for the skin as well. The heat of a steam bath or sauna increases blood flow not only to the extremities, but also to the surface of the skin, breathing new and natural life and luster into it. The heat also opens up pores and makes one sweat, it's absolutely the best way to purge the gunk that builds up inside the skin, bring nutrients to the surface, naturally moisturize, and help shed old, dead skin, making it look radiant and new.
3. Good for Muscles
Improved circulation is good for muscles, too, and this is actually one of the most common reasons that people have steam baths or saunas – the heat just plain helps relax. Heat soothes tension and muscle aches, making the body relax and unclench. Saunas and steam baths like one from Steamist are excellent for people who suffer from chronic muscle pain and arthritis, and can help keep the pain low and mobility high.
4. Good for Metabolism
Improved circulation doesn't just mean improved blood flow, it means heightening all the systems in the body, including metabolism. Now, it is not possible to drop 10 lbs in the first week or anything, but daily use of a steam bath or sauna can improve the overall metabolic rate. The less obvious result of this is that the body is also better at detoxing. The better the circulation, the better the body's purification, and the more it sweats, the more toxins and impurities are removed.
5. Good for Breathing
The other most common medical reason for a person to want a steam bath (or, to a lesser extent, a sauna, which offers a drier heat) is that breathing in hot steam does miracles for respiratory system, improving breathing and opening up airways. People with chronic breathing problems, asthma, or even allergies can use steam baths to treat their ailments – a treatment which is often recommended by doctors, and which offers a more natural alternative to chemical treatments. There are steam showers available that do not require a major bathroom renovation, like Steam Showers by Aston or Ariel.
6. Steam Bath
Both saunas and steam baths offer largely the same health benefits, but the experience of using one is fairly different from the other, as is the construction and installation. One of the main benefits of a steam bath from Mr. Steam is that it can be integrated into a shower remodel, provided some new tile work is being done and one can make the shower doors fully enclosed and water tight. A steam generator can be installed up to 25 feet away from the steam bath and is relatively small, so it won't take up much space. Another option is to get a complete steam shower unit, which does not require any tile work or any major renovation, like ones by Ariel or Aston.
7. Sauna
Saunas are a more traditional structure, they offer a much drier. This allows one to attain a higher heat than in a steam bath (the water intensifies the feeling of heat), but the largeish, usually electric sauna heater has to be inside the sauna to heat it. That means that a sauna has to be its own structure, and can't have an integrated shower. Saunas are usually made of wood – and, in fact, are frequently sold in residential Sauna Kits – and can be as small as a closet or as large as a guest room. That also means that big renovation is not necessary in order to get one – all it takes is some free space to put it in and an outlet to plug it in to.
HomeThangs.com is not only a home improvement superstore, it also provides expert design tips and a comprehensive shopping guide, taking the ideas from professional interior designers, and offering tips to the consumers on how to pick the products to best suit their needs.