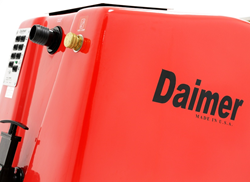 Daimer® is proud to announce the XTreme Power® XPH-9600 commercial carpet cleaners to the airline industry. The system is the most powerful 100% electrically powered portable carpet shampooer on the market in lieu of a massive truck mount steam cleaner.
Woburn, MA (PRWEB) January 02, 2013
Daimer Industries, Inc.®, the most renowned supplier of American produced cleaning machines to more than 200 countries for a variety of applications and markets, including such technologies as professional carpet cleaning machines, pressure-optimized truck mount carpet cleaners, and general carpet steam cleaners, is now shipping its 500 psi XTreme Power® XPH-9600 to the airline industry for maintaining carpeted surfaces within planes and jets. An optional four inch upholstery tool converts the system into a potent upholstery cleaning machine is available for cleaning fabric seats, cushions, and other cloth upholstered surfaces.
The mobile carpet extractor system includes extra-long 100' hoses that allow users to clean surfaces from long distances without moving the machine. High temperatures up to 210º F, completely adjustable pressure up to 500 psi, fast system heating and drying times, and exclusive technologies make the XPH-9600 carpet cleaners ideal for quick and efficient cleaning of carpets in aircrafts within which passenger traffic is always high.
The commercial carpet cleaners include a patented three foot long wand with a special 12 inch XTreme-Xtraction™ self-adjusting head, which offers the suction equivalent to that of an added vacuum motor. The resulting 60% added suction further reduces the drying times to merely two hours. The wand in conjunction with three power-packed dual stage motors make for unparalleled extracting power.
"High passenger traffic in a concentrated area can make the carpeted surfaces in aircrafts dirty very quickly. Therefore, carpets require regular attention, more than most other areas in an aircraft," says Matthew Baratta, Daimer Industries, Inc.® spokesperson. "Daimer® is proud to announce the XTreme Power® XPH-9600 commercial carpet cleaners to the airline industry. The system is the most powerful 100% electrically powered portable carpet shampooer on the market in lieu of a massive truck mount steam cleaner. Our XPH-9600 offers the significant benefit of much lower flow and much quicker drying periods, which is essential for plane cleaning."
Planes and jets include expensive carpeting and seats, both of which must be properly maintained for the passengers' benefits. Plus, keeping the interiors clean on a regular basis is even more important for fabric longevity as well. Replacing carpeting and seat cushion fabric is an expensive undertaking that should be avoided or at least delayed at all costs. Maintenance crews must ensure the aircraft is cleaned efficiently, effectively, and safely during maintenance down-times.
Daimer®'s XTreme Power® XPH-9600 productivity-maximized carpet cleaners feature automatic filling and dumping technologies. Auto-fill and auto-dump end the need for operators to manually refill clean water and empty dirty recovered water. The equipment automatically draws clean water from the water supply and disposes the dirty water into a toilet or drain. The users are only required to attach a garden hose to the machine from a water supply, and attach another hose from the water extraction chamber to the drainage depository. The system does the rest and the operator can focus entirely on cleaning. Productivity is completely enhanced using this highly suggested and proper operational method.
The versatile carpet cleaning equipment model includes a pump with a clearly readable pressure gauge, and the user can simply dial pressure from 0 to up to 500 psi. A large 17 gallon solution tank allows the user to clean in a completely self-contained mode in cases where a water connection is unavailable.
The highly durable XTreme Power® XPH-9600 carpet cleaners come with two powerful inline heating elements that can generate high temperatures within just five minutes. Users can even turn off the heat while maintaining delicate carpets made of natural fibers like wool.
The machine's 100' hoses are actually included as set of four 25 foot sections with quick disconnects. Operators can attach the pieces in 25' increments up to the total 100' length so they can create just the right length depending upon the plane's length.
Daimer®'s Eco-Green® Carpet Care & Upholstery Cleaner, which is included during the company's promotions, increases the productivity of the cleaning professional while enhancing the cleaning quality. Pre-spraying carpets and upholstered surfaces with the soap-free and plant-based solution is always preferred since no trace of the formula is left behind and the surfaces stay cleaner for longer periods.
For Additional Information:
To learn more about the XTreme Power® XPH-9600, visit Daimer®'s website, or telephone Mr. Baratta at (888) 507-2220. The carpet cleaning machines are marketed globally to most countries.
About Daimer Industries, Inc.®:
Daimer Industries, Inc.® is a world leader in top-grade, feature-rich cleaning systems that include carpet steam cleaners, floor cleaners, vapor steamers, extraction-enhanced water damage restoration equipment, auto detailing machines, innovative car wash equipment technologies, pressure washers, carpet shampooer systems, and others to national and international customers of all sizes and types.