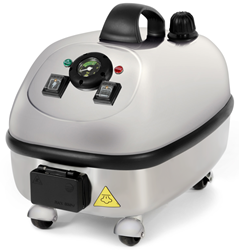 Daimer® is very proud to have launched a machine that cleans with the unbeatable power of hot vapor steam. Salons will now be able to easily maintain their premises and achieve the high level of cleanliness ...
Woburn, MA (PRWEB) April 26, 2013
Daimer Industries, Inc.®, the most respected U.S.A. brand of steam cleaner systems, is offering the KleenJet® Pro Plus 200S, a canister-based commercial steam cleaner featuring technologies that make the cleaning of hair salons an effortless and simple task. The rugged vapor steam cleaner offers steam temperatures up to 310°F and pressure levels up to 75 psi, which are the maximum for any canister-based system. Appropriate cleaning of floors; washroom sinks; door knobs; mirrors; seat handles; window glass; drinking fountains; fans; and ventilation systems is now possible with the Pro Plus 200S power-rich, temperature-enhanced machine.
"For running a profitable hair salon, high level of cleanliness is mandatory. Aside from employing highly talented hair stylists, a well-kept salon can help maintain and increase client traffic, which is crucial to a successful operation," says Daimer Industries, Inc.® spokesperson, Matthew Baratta. "Daimer® is very proud to have launched a machine that cleans with the unbeatable power of hot vapor steam. Salons will now be able to easily maintain their premises and achieve the high level of cleanliness with the help of the KleenJet® Pro Plus 200S commercial steam cleaner."
Daimer® is the supplier of the world's most sought-after industrial steam cleaner systems and other high-powered cleaning machines, such as ruggedly-built floor steam cleaner equipment. The company's machines feature outstanding technologies that are innovated by its own team of experts. Over 700 models of powerful machines are available in Daimer®'s offering. The products, which are shipped to 240+ countries globally, are used in industries, such as food service, hospitality, and medical. When it comes to rigorous cleaning requirements, most companies trust in Daimer® machines. The machines are engineered in a way that they are able to virtually handle all types of cleaning applications.
Disorganized, dirty, and unsanitary hair salons will ultimately fail within some period of time, due to dissatisfied clientele. Daimer®'s high-grade industrial steam cleaner machines help in effectively cleaning most surfaces, including workstations and chairs. Obviously, neat and clean salons are always preferred by customers over salons that are dirty. Moreover, unclean surfaces in salons often lead to bacterial infections and transmission of diseases. Many salons get shut down due to not adopting proper cleanliness methods.
The KleenJet® Pro Plus 200S steam cleaner from Daimer® creates high temperatures within just 10 minutes, given the systems' advanced heating technology and high-quality heating element. Most bacteria and germs perish when exposed to high temperatures.
The vapor steam cleaner's heating element is easily removable, and the boiler is made of stainless steel. the most rugged material for boiler construction. Other brands in the industry use aluminum elements. Replaceable heating elements help users reduce costs dramatically as well, making the KleenJet® Pro Plus 200S one of the most cost-efficient and best steam cleaner systems in the market with respect to cost of ownership. In the rare case of an element needs replacement, the cost is a mere fraction of an entirely new boiler that is required by other brands whole elements are welded inside of welded boilers. Daimer®'s machines can reduce costs by up to and over $800.00.
In addition, the 1600 watt quality portable steam cleaner weighs just 23 lbs and can be transported easily from one place to another. The portability of a machine is a very important factor for those in the cleaning business, as they need to work at different locations while performing cleaning tasks.
Daimer®'s machines are an ideal investment for cleaning professionals, businesses, or homeowners. The technologies incorporated within its machines make the systems efficient, productive, and highly reliable. These are among the many reasons for the company's dominance in the steam cleaning industry around the world.
Daimer®'s KleenJet® Pro Plus 200S model is an ideal machine for hair salon cleaning as it includes just the right accessories for maintaining mostly all kinds of surfaces. For steam mopping floors, a large rectangular floor brush with towel clips is included. Those cleaning corners, bathroom sinks, mirrors and windows can use Daimer® vapor-rich steam cleaner with large and small triangular brushes, a steam plunger and a steam squeegee, respectively. The KleenJet® Pro Plus 200S equipment becomes perfect floor cleaning machines when bought with the right accessories.
The best part is that the machine can also be used for spot cleaning of carpets and furniture upholstery, however, it cannot be considered as a professional carpet steam cleaner. For regular carpet cleaning, the company offers a separate category and brand of machines.
For Additional Information:
Gather additional data about the KleenJet® Pro Plus 200S steam cleaning system by calling Matthew Baratta at (888) 507-2220 or visiting Daimer®'s official website. The machines are shipped to many nations across the globe.
About Daimer Industries, Inc.®:
Daimer Industries, Inc.® is the nationally and worldwide leading supplier and brand of cleaning systems, such as carpet steam cleaner machines, steam vacuum cleaners, portable grout steam cleaner machines, gum removal machines, pressure washing machines, and more. The machines can be used for a variety of applications, such as grease removal, hospital sanitization, heavy machinery cleaning, carpet and upholstery cleaning in hotels, commercial kitchen maintenance, and many more.