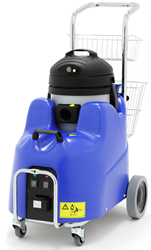 Daimer® is extremely excited to present the KleenJet® Supreme 3000CVP - ATIS®, a powerful anti-bacterial commercial steam cleaner that also includes the company's Totally Sealed Water Capture™ (TSWC™) technology ...
Woburn, MA (PRWEB) February 05, 2013
Daimer Industries, Inc.®, the nationally and internationally popular American supplier of multi-functional cleaning equipment, including such products as commercial steam cleaner systems, heated carpet steam cleaner machines, versatile floor cleaning machines, multi-use tile and grout cleaning equipment, and many other technologies, is now shipping the KleenJet® Supreme 3000CVP - ATIS®.
The power-rich machine offers steam temperatures up to 364ºF, pressure levels up to 115 psi, and vacuum suction of 2200mm water column lift. High temperatures, generated within about 10 minutes, helps dissolves dirt and many other deposits easily. The system offers certified sanitization while cleaning since the Supreme 3000CVP - ATIS® vapor steam cleaner comes with Daimer®'s Advanced Thermal Ionic Sanitization™ (ATIS®) technology. Daimer offers the industry's only steam vacuum cleaner that has been tested in an independent laboratory. The results showed a verifiable kill rate of up to 99.999 percent of deadly bacteria, such as MRSA, Listeria, Salmonella, E.Coli, S. aureus, mold such as Aspergillus niger. The machine's anti-microbial capabilities make it ideal for the maintenance of dental offices.
"Dental offices need to clean their office premises, including floors and other surfaces extremely well for the health benefits of the dentists, staff, patients. Disinfection is absolutely critical, and every measure must be taken to help prevent the growth of bacteria," says Daimer Industries, Inc.® spokesperson, Matthew Baratta. "Daimer® is extremely excited to present the KleenJet® Supreme 3000CVP - ATIS®, a powerful anti-bacterial commercial steam cleaner that also includes the company's Totally Sealed Water Capture™ (TSWC™) technology to capture allergens during the steaming and vacuuming process. HEPA filtration also works to extract stray particulates up to three microns in size."
Daimer® is the worldwide renowned brand of portable steam cleaner machines and offers technologies that improve the efficiency and effectiveness of its machines. The company offers 700+ models of cleaning systems that are exported currently to 240+ nations. Daimer® has been supplying machines to most industries across the globe for many years, and has been successful in part due to its expertise in product engineering.
Countertops, reusable containers, drawer handles, doorknobs, sinks, walls floors, bathrooms, and others need to be cleaned thoroughly. The vapor machines are also considered excellent general floor cleaning machines for the appropriate applications. Steam cleaning is still the ideal way to achieve thorough cleanliness and sanitization.
Daimer®'s KleenJet® Supreme 3000CVP – ATIS® disinfecting vapor steam cleaner] is among the industry's most important and best steam cleaner since it generates Non-Stop Steam™. Other big pluses are the exclusive technologies that make the process easier, as compared to other brands' machines that do not offer any special efficiency-enhancing functionality of any significance.
The 3000CVP machine features the company's Boiler Scale Reduction™ technology that prevents the formation of mineral and scale buildup, and helps the machine maintain high temperature and pressure. The vibrating mechanism helps shake away build-up and increases the life of the boiler.
Commercial cleaning applications, such as those within dental offices, require a power-enhanced cleaning ability using a serious machine such as with the KleenJet® Supreme 3000CVP – ATIS®. The industrial steam cleaner comes with huge 14 liter extraction vacuum recovery tank and Daimer®'s Advanced Self-Regulating Continuous Refill Technology™ technology that allows users to refill the machine while it is still being used for cleaning. Machines from other brands that do not come with this feature are first depressurized, then refilled, and then reheated to start the cleaning process. With continuous refill technology, cleaning professionals do not need to waste 40 minutes in restarting the machine and can work in a non-stop fashion.
Daimer®'s customers can buy optional 16' steam hoses and 24' steam vacuum hoses that can clean within 2000 square feet area without moving the machine. The steam cleaner's Water Ejection & Chemical Ejection feature allows users to add chemicals to the machine for difficult cleaning tasks. Although the Supreme 3000CVP – ATIS® is not a carpet steam cleaner, it can still be used for spot cleaning carpets and upholstery.
The commercial steam cleaner comes with a host of accessories, making it even more versatile for effective tile and grout cleaning and other tasks. Accessories, such as 10' steam hoses and steam vacuum hoses, brushes of varied shapes and materials, plush microfiber towels, and steam squeegee for cleaning mirrors, are used to clean various surfaces with ease. Apart from versatility, the KleenJet® Supreme 3000CVP – ATIS® is highly durable too, as its cover material is made of hard plastic and the base material is strong steel.
For Additional Information:
Visit the Daimer® website or call Matthew Baratta at (888) 507-2220, to garner more information about the KleenJet® Supreme 3000CVP – ATIS® industrial steam cleaner. The machines are shipped to many countries across the globe.
About Daimer Industries, Inc.®:
Daimer Industries, Inc.® is the globally reputed supplier and brand of cleaning systems with advanced technologies. The machines offered by the company include carpet steam cleaner systems, cleansing grout steam cleaner machines , hard surface cleaners, gum removers, automobile detailing, commercial pressure washing systems, steam vacuum cleaning systems, tile and grout cleaners, and more.