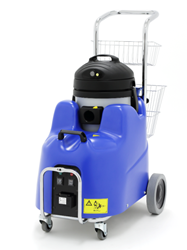 Daimer® is excited to present in its Supreme 3000CVP ATIS® one of the industry's only certified vapor steam cleaner equipment with extraction, which has been scientifically proven to kill some of the most deadly bacteria and pathogens in the world.
Woburn, MA (PRWEB) December 24, 2012
Daimer Industries, Inc.®, the world's leading supplier and major U.S.A. brand of commercial cleaning technologies, including mega-flow vapor steam cleaner machines, professional-grade steam vacuum cleaner systems, and portable steam cleaner equipment with over 400 models sold to customers within over 200 countries, is shipping the KleenJet ® Supreme 3000CVP ATIS®, a system that creates extraordinarily high temperatures of up to 364ºF. The 3000CVP ATIS® has been independently certified to kill up to 99.999% of harmful pathogens, bacteria, and much more.
Scientifically tested steam machines are the best steam cleaner systems to target bed bug removal and disposal, and Daimer® steam vacs are among the only systems in the industry with 100% EPA compliance. The company's other models are the other compliant vacuum steamer models. A specific EPA number has been assigned to every 3000CVP ATIS® steam cleaner equipment's label.
The Supreme 3000CVP ATIS® is a powerful, anti-bacterial commercial steam cleaner, which is ideal for pest control cleaning professionals, the entire hospitality industry, homes with infestations, and even businesses plagued with bed bugs spread from unsuspecting individuals with the unfortunate luck to have come in contact with the nasty critters. One distressing fact is those unlucky enough to find bed bugs normally face tough decisions as to the proper extermination method.
"Bed bug infestation has spread across the world, and techniques used to eliminate them have not been too effective. The bed bug epidemic is not just happening across the United States, but within many other countries as well," says Matthew Baratta, Daimer Industries, Inc.® spokesman. "Daimer® is excited to present in its Supreme 3000CVP ATIS® one of the industry's only certified vapor steam cleaner equipment with extraction, which has been scientifically proven to kill some of the most deadly bacteria and pathogens in the world. The launch of the KleenJet® Supreme 3000CVP ATIS® will help eliminate the horrendous bed bug problem that is affecting many people in large cities as well as those in urban areas."
Bed bugs are the main reason behind the spread of many life-threatening diseases. Businesses, hotels, homes, and many other commercial facilities are affected by bed bugs. Daimer® offers advanced, patented technologies that help kill bed bugs with Super-Hot™ vapor steam. The company's exclusive Totally Sealed Water Capture™ system draws all allergens into the extraction chamber, which detaches from the steamer in seconds. The water containing the dead carcasses can be simply poured down a drain or into a toilet.
Currently, pest control cleaning pros and maintenance professionals generally use chemicals or some strong solutions to kill bed bugs. However, the bugs are extremely difficult to eliminate when they have established themselves within a dwelling, even harder than killing cockroaches, ants, or termites. The attempted extermination and removal of the bugs require many people to tackle so many infected facilities globally. Time delays in destroying the pests lead to worsening situations, so implementing the best technology is absolutely crucial.
Daimer®'s KleenJet® Supreme 3000CVP ATIS® is the most powerful and innovative industrial steam cleaner of its kind, besides one of the company's other models. The anti-microbial equipment offers pressure levels up to 115 psi, emitting dry steam containing only 5% water content. The steam cleaner system creates temperatures as high as 364ºF.
The high temperatures help kill bed bugs within all growth stages. Other machines and technologies on the market can actually soak surfaces, whereas the 3000CVP ATIS®'s "dry" vapor steam helps eliminate bed bugs while keeping the surfaces, such as mattresses and carpets drier. The steam vacuum machine is not a carpet steam cleaner, although the system kills and extracts beg bugs from carpets.
This exclusive Daimer® system is the world's only patent-pending, certified, anti-bacterial technology that is proven to have produced a kill rate of 99.99% against harmful mold and bacteria. The machine can even destroy Salmonella, E.Coli, MRSA, and more. The company's Advanced Thermal Ionic Sanitization® (ATIS®) technology is installed within each of 3000CVP's boilers. The exclusive device can even extract minerals from water, keeping the boiler cleaner, and is responsible for maximizing internal temperature and pressure levels.
Daimer®'s exclusive Water Extraction technology is also incorporated within the industrial steam cleaner, capturing dry and wet particles from hard and most soft surfaces via the KleenJet® Supreme's vacuum. The user merely fills the machine's water capture chamber with water, and all vacuumed substances land in the water, ready for simple disposal.
All of Daimer®'s steam cleaning equipment comes with a lifetime boiler warranty, and are bundled with more than 36 accessories and parts to manage a variety of cleaning applications.
For Additional Information:
To gain more knowledge of the KleenJet ® Supreme 3000CVP ATIS ® machine, visit Daimer®'s website or telephone Matthew Baratta at (888) 507-2220. The vapor steam vacuum machines are marketed worldwide to most nations.
About Daimer Industries, Inc.®:
Daimer Industries® is the leader in superior steam cleaning equipment supplying over 700 models of various types globally. Diversified carpet steam cleaner equipment, mobile commercial carpet extractor machines, low flow carpet shampooer equipment, high pressure wash systems, and other floor and hard surface machines for most applications and industries with in all markets internationally.