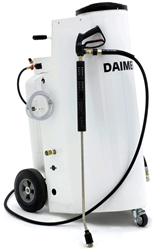 Daimer® is delighted to offer the Super Max™ 7000, an electric pressure washer designed to help maintain wheelchairs in one of the best ways possible.
Woburn, MA (PRWEB) May 23, 2013
Daimer Industries, Inc.®, the undisputed leader in American made high-grade auto detailing systems, including outstanding car wash equipment and powerful truck cleaning systems, as well as other popular cleaning machines with many satisfied customers distributed across hundreds of nations worldwide, is now offering the Super Max™ 7000, an electric-powered, tri-mode pressure washer designed to help manage a myriad of cleaning applications, such as maintaining wheelchairs.
"Wheelchairs play a pivotal role in helping disabled individuals lead more independent and dignified lifestyles. For this reason, wheelchairs must be kept clean to ensure proper and longer-lasting performance. The grime, dirt and body fluids accumulated over the course of even a day must be removed to maintain the efficiency of brakes and wheels," says Daimer Industries, Inc.® spokesman, Matthew Baratta. "Daimer® is delighted to offer the Super Max™ 7000, an electric pressure washer designed to help maintain wheelchairs in the best way."
Daimer® is a globally renowned name featuring over 700 different versions of expertly designed and technologically advanced cleaning systems that are marketed internationally to over 240 countries around the world. This reputed supplier has always been on the forefront in introducing unique technologies and functions in its different lines of cleaning machines. The durability, reliability, efficiency, and guaranteed user safety of Daimer® machines continue to earn the appreciation of satisfied customers.
There are over 3.7 million wheelchair users in the United States. In other words, wheelchairs are indispensable in the lives of over 1 percent of the population. With daily use, wheelchairs tend to accumulate a considerable amount of build-up. Sometimes, medical conditions or incontinence can result in the deposit of variety of unpleasant bodily fluids. Keeping the wheelchair clean and disinfected is the best method to prevent buildup of unwanted deposits, and maintain a sanitized chair.
Cleaning experts have long known that pressure cleaning is one of the most effective ways to maintain wheelchairs, especially if high temperature flow is flowing from the system. Cold water machines simply cannot touch the cleaning power of a steam model. High temperature electric-powered or gas pressure washer systems can be used to clean wheelchairs on a daily or weekly basis, depending on the residue. Clean wheelchairs also cut down the chances of germ growth that may trigger infections.
The Super Max™ 7000 from Daimer® is a popular pressure washer ideal for tackling a range of cleaning applications, in addition to maintaining only wheelchairs' seat surfaces. Pressure levels of 1000 psi equip the machine with the power needed to eliminate unwanted build-up from the frame, wheels, brakes, and locks of wheelchairs. Experts recommend using this type of supreme-quality hot water pressure washer as an ideal cleaning machine choice.
Low water flow is another characteristic of the Super Max™ 7000 that sets it apart from conventional gas pressure washer machines. The low flow ensures faster and more effective cleaning of wheelchairs while keeping water consumption to a minimum. This is a great plus factor for hospitals, old age homes, and nursing homes that feature a large number of people using wheelchairs on a daily basis. Low water flow rates help save a huge volume of water in the long run.
The Super Max™ 7000 is a tri-mode commercial pressure washer designed to independently function in three modes: wet steam, hot water, and cold water. The cold water mode may be adequate for routine cleaning of the wheels and frame of wheelchairs. However, the wheels can easily collect tougher deposits, such as dirt and grime, if used outdoors. To eliminate more stubborn substances, experts recommend switching to one of the higher temperature modes simply by dialing the temperature on the control panel.
Customers and cleaning experts highly appreciate the versatility of the pressure washer that makes it excellent for a range of cleaning applications. High pressure levels coupled with Super Hot™ technology, that ensures the generation of steam at consistently high temperatures, empower the Super Max™ 7000 with superior gum removal capabilities on outside surfaces. The power washer is capable of eliminating up to 1200 pieces of gum per hour, and is one of the very best pressure washer systems offered by Daimer®.
The versatile electric pressure washer is also a great option for degreasing kitchen floors, maintaining industrial equipment, soap scum removal in commercial bathrooms, and eliminating mold and mildew from surfaces. The efficiency of the top-class industrial pressure washer remains consistently good due to the unique Long Hose Technology™ (LHT™) that provides users with the ability of working with hoses as long as 300 feet, or more.
Other technologies, such as Adjustable Temperature Control™ (ATC™), Automatic-Shutoff Technology™ (AST™), and Steam Nozzle Optimized™ (SNO™ ) help increase the efficiency of the ones in the cleaning business. The ATC™ helps control the temperature of the systems, while the AST™ automatically shuts down the machine when not used for over 30 seconds, and the SNO™ allows for the emission of wet steam through all the nozzles for increased versatility.
The rugged construction helps keep maintenance issues at bay. However, in the rare case of maintenance problems, the Self-Maintenance Engineering™ (SME™) technology helps customers replace a part anywhere in the world without having to send the system back to the company or a professional service center.
The electric-powered, propane-heated hot water pressure washer comes with numerous accessories designed to simplify and enhance cleaning functions.
For Additional Information:
For more information on the Super Max™ power cleaners, visit or call Matthew Baratta directly at (888) 507-2220. These pressure washers are internationally marketed to hundreds of countries.
About Daimer Industries, Inc.®:
Daimer Industries, Inc.® is the reputed world leader in pressure wash systems featuring hundreds of models of the most advanced cleaning systems, including floor cleaners, carpet cleaners, steam cleaners, and auto detailing systems.
Visit Blog: http://pressure-washer-usa.blogspot.com/