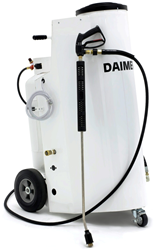 Daimer® is thrilled to debut a machine that keeps food service kitchens exceptionally clean. The Super Max™ 7000 hot water pressure washer cleans with the power of super heated steam and sanitizes the surfaces as well ...
Woburn, MA (PRWEB) February 11, 2013
Daimer Industries, Inc.®, the globally leading supplier of hundreds of models of American made commercial quality cleaning machines, including high pressure washer systems, assorted gas pressure washer machines, all electric pressure washer equipment, stationary truck mount carpet cleaning equipment , and other varied industrial technologies designed for most cleaning tasks, has unveiled the Super Max™ 7000 to pest control companies. The electricity-powered and propane-heated commercial pressure washer even meets USDA standards for use indoors within food and beverage facilities, besides the food service industry.
The industry's best pressure washer systems generate ultra high temperatures, and the 7000 goes well beyond other pressure cleaner machines in the industry. The tri-mode equipment generates temperatures as high as 330ºF, the highest in the industry. Such stellar temperatures can eliminate pests or bacteria in food service kitchens.
"A restaurant's reputation can be ruined if customers see pests within the facility. Fruit flies, rats, mice, and roaches all pose a public health threat, and some spread bacteria or carry pathogens that can certainly negatively affect food safety. Many pests can survive on food debris, grease runoff, fats, hardened sugar, and trash, so it is extremely important to keep the kitchens as clean and sanitized as possible," says Matthew Baratta, spokesperson of Daimer Industries, Inc.®. "Daimer® is thrilled to debut a machine that keeps food service kitchens exceptionally clean. The Super Max™ 7000 hot water pressure washer cleans with the power of super heated steam and sanitizes the surfaces as well. Health Department inspectors expect restaurants to meet high standards of cleanliness, which the 7000 model will achieve easily.
Daimer®'s Super Max™ 7000 portable industrial pressure washer offers pressure levels of 1000 psi at flow rates of 2.5 gpm. The company's Super-Hot™ technology allows for the emission of hot steam as high as 330ºF, and the model's Thermal Optimized Projection Steam™ (TOPS™) technology allows the electric pressure washer to generate powerful, higher temperature steam flow. Both these technologies not only provide superior cleaning results, but also reduce water usage to make the process eco-friendly, unlike machines from other brands. The model is strong enough to even function as power-packed car wash equipment.
Hot pressurized steam, when applied on surfaces, can remove all kinds of food deposits in kitchens, be it on slabs, trash cans, or washing sinks. It can also clean grease kitchen floors and walls and can be used for kitchen duct cleaning. Clean kitchens discourage pests from making their home there. Moreover, pests cannot survive such high temperatures.
The machine reaches such high temperatures in merely 30 seconds, as it includes high-pressure stainless steel heater exchange coils. In addition, Daimer®'s Steam Nozzle Optimized™ (SNO™) technology, incorporated in the Super Max™ 7000 pressure washer, allows the machine to eject wet steam through all the nozzles. Wet steam, when emitted in all spray patterns, allows users to clean all the nooks and corners. Operators can always opt to easily adjust the temperature as they see fit. The machine comes equipped with the company's Adjustable Temperature Control™ (ATC™) technology. Users can simply dial the desired temperature right on the control panel.
All of Super Max™ 7000's parts and accessories are made of durable materials that are able to withstand high pressure, unlike machines from other brands that come with aluminum coils, which will develop holes over time. Moreover, the company's own Modular System Design™ (MDS™) and Self-Maintenance Engineering™ (SME™) technologies allow users to change a part easily, in the rarest of situations when it is required. The parts are readily available and easily replaceable by anyone worldwide. The benefit is the equipment does not need to be sent to a professional repair facility.
The Super Max™ 7000 comes with Daimer®'s Long Hose Technology™ (LHT™) that allows for the emission of highly pressurized steam even if hoses up to and over 300 feet are used. Daimer®'s Automatic-Shutoff Technology™ (AST™), available as an optional feature with the mobile commercial pressure washer , turns off the machine automatically when it is not used for over 30 seconds. The feature is extremely useful when operators use ultra long hoses for cleaning. They do not need to walk back 300 feet just to power off the machine, which is reactivated automatically when users pull the trigger gun.
The approximately 13 amp hot water pressure washer, with a heavy-duty 1.5 HP – NEMA motor, comes standard in a 110V-120V, single phase, 60 Hz power configuration. Daimer® offers optional power configurations of 110V-120V, single phase, 50 Hz; 220V-240V, single or three phase, 50 or 60 Hz; 440V, three phase, 50 or 60 Hz. A durable 3' trigger wand with quick disconnect, 25' high pressure steam hose, and nozzles of 0º (blast), 15º, 25º, and 40º stray patterns are some of the accessories included with the pressure washer.
For Additional Information:
Read more details about the Super Max™ 7000 by visiting the corporation's website , or by contacting Matthew Baratta directly on (888) 507-2220. The machines with advanced technologies are marketed to over 240 nations around the world.
About Daimer Industries, Inc.®:
Daimer Industries, Inc.® is the globally renowned supplier of cleaning systems, such as gas pressure washer systems, hard surface cleaning machines, auto detailing equipment, steam vacuum cleaners, and more. Daimer® is the cleaning equipment provider of choice for government agencies, restaurants, hotels, hospitals, many of the world's largest domestic and international companies, and those within most markets and industries around the globe.