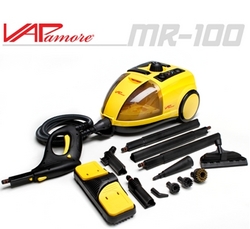 Vapamore is here to stay. We will always be improving our brand, and always be a step ahead of those who clone our products.
Scottsdale, AZ (PRWEB) January 3, 2011
Vapamore, the leading manufacturer of steam cleaning products recently took notice of cloned products of their popular MR-100 steam cleaner appearing online. They began receiving calls from existing and prospective customers asking about the cloned products. Customers wanted to know why what seemed like the identical product was being offered for a discount. Well the cloners had done a remarkable job copying the look of the Vapamore MR-100, but they fell way short of replicating what makes it a Vapamore steam cleaner. Vapamore's line of steam cleaning products have features and meet specifications that the cloned off-labeled cleaners do not.
"There has been some confusion among current and potential customers, since the clones are almost identical in appearance," says a Vapamore's spokesperson. "Product cloning is nothing new. We've seen cloned products come and go in recent years." He continues, "Though the cloned products look similar in appearance, they fall short when it comes to the quality of internal components, which are covered by a solid lifetime warranty. We've taken the proper measures that set us apart, such as complying with ETL safety standards and the high level of service to our customers. We are continually retooling manufacturing based on customer feedback. Retailers of the cloned products also do not offer the parts that need replacing after prolonged usage, such as brushes."
Vapamore's MR-100 steam cleaner has even gained the recognition of Linda Cobb with The Queen of Clean "Seal of Approval." Linda Cobb, "The Queen of Clean" appears on talk shows, and is widely known as the go-to cleaning expert for daytime television.
Vapamore's products have gathered a good reputation wherever they are sold. Vapamore advises to be aware of the inferior knockoffs and to make sure the product carries the Vapamore brand name before purchasing. Vapamore spokesperson, "Our main concern is the consumer. We do not want them to think they are getting a Vapamore brand steam cleaner and get stuck with the wrong product that is going to let them down. We are all about the customer and the service they receive, who knows what type of care the retailers of the cloned steam cleaners are giving, if any. Our customers can pick up the phone and call Vapamore and speak to a live person."
"Vapamore is here to stay. We will always be improving our brand, and always be a step ahead of those who clone our products."
Vapamore is the leader in the home steam cleaning industry. They manufacture innovative cleaning products that are designed and tested for usability and longevity. Vapamore ensures that their products meet consumer needs through a rigorous customer based product development process. To learn more about Vapamore, contact them at 480-951-8900 or visit online.
###