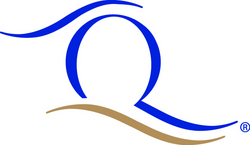 They have overcome many barriers that a large scale property management company faces when implementing an in-unit recycling initiative.
Steamboat Springs, CO (PRWEB) December 4, 2008
The Steamboat Springs Chamber Resort Association has announced that ResortQuest Steamboat Vacation Rentals, a property management company in Steamboat Springs, Colorado, has been awarded Gold Certification status in the Chamber's Sustainable Business Program.
"A great deal of hard work and commitment went into earning this honor", said ResortQuest Sales and Marketing Director, Katy Martin. "Our team has passionately stepped up to the plate to make it happen."
The Sustainable Business Certification requires that a business demonstrate a reduction in energy usage, a plan to reduce, recycle and reuse as much of their waste stream as is feasible, and to put in place water conservation practices. Additionally, a comprehensive analysis of policies, practices and purchasing habits is undertaken so that improvements can be identified.
"Perhaps the most notable achievement in ResortQuest's sustainable business action plan is the program they have put in place for guests to recycle in the units", said Lyn Halliday, President of Environmental Solutions Unltd LLC and the consultant on the project. "They have overcome many barriers that a large scale property management company faces when implementing an in-unit recycling initiative."
Each of ResortQuest's 300+ Steamboat vacation rentals will have recycling receptacles which will be collected daily by a special Green Team. Paper, paperboard, plastics 1-7, glass, tin, and aluminum will all be stored and collected separately from non-recyclable trash in containers and recycling centers provided by the company.
ResortQuest has also started using paper Green-KeyTM electronic keys which are made of renewable resources and are recyclable. Also in the line-up of green initiatives are Thymes Eucalyptus recyclable paper bottles for individual in-room shampoo, conditioner and lotion. They take the place of a multitude of small plastic bottles which generated a great deal of non-recyclable waste. This ski season, ResortQuest is transitioning to Cascades North River recycled tissue paper products and walnut shell kitchen scrubbing sponges. Guest information on sustainable practices is included in the check-in package.
In conjunction with the green housekeeping program, guests are welcomed to their vacation home with a delectable gift of chocolate confectionary created by Yepello Chocolates & Confections, hand-made in Steamboat Springs, Colorado.
"We are proud to partner with Yepello Chocolates not only because their products are exquisite, but because they also employ sustainable business practices by using recycled and recyclable packaging, as well as soy-based colorings," said Martin. Furthermore, Yepello chocolates use locally grown products, such as local lavender for their Lavender Vanilla truffles, and local honey for their Cashew Honey truffles.
Many of the standard sustainability practices such as reducing their carbon footprint by changing light bulbs to more energy efficient types, improving building efficiencies, purchasing green products, are also now in place at over 300 units managed by ResortQuest Steamboat.
"Our eco quest is something that will be ongoing and we hope to be one of the leaders in our industry in this regard", said Peggy Rogers, the ResortQuest's Property Manager at Trappeur's Crossing Resort, and one of the key people behind the program.
Over 50 businesses in the Yampa Valley have enrolled in the Chamber's Sustainability Program, launched in 2007. For more information please visit SteamboatChamber.com.
About ResortQuest Steamboat
ResortQuest Steamboat located in Steamboat Springs, Colorado, specializes in providing property management services (including check-in centers, concierge, on-demand shuttle service, housekeeping and maintenance) to select, deluxe lodging properties around the Steamboat Ski Resort base, including the prestigious Torian Plum, Trappeur's Crossing Resort, Bronze Tree, Meadows at EagleRidge, Cascades Townhomes, Evergreens Townhomes, Ironwood Townhomes, Clock Tower Penthouses, Snow Flower Condominiums and Elk Run Townhomes.
Since 1984, this management company has received the top Service designation and our resorts have been consistently awarded the highest rating of "Excellent" from the independent Condominium Rating Service.
About ResortQuest
ResortQuest, one of the nation's leading vacation rental hospitality and resort real estate companies, provides a one-stop resource in North America's premier resort destinations. ResortQuest is the largest marketer and management company of vacation condominiums and home rentals in the U.S., based on a portfolio of over 10,000 vacation rental properties. ResortQuest has local check-in offices at every one of its destinations and full staff on-site to provide the highest service levels to guests. With the inclusion of Partner Affiliates in North America and Europe, ResortQuest now offers over 50,000 vacation rental choices in over 100 destinations world-wide. With over a billion in sales, ResortQuest Real Estate is one of the nation's leading real estate companies focusing exclusively on resort properties, offering superior brokerage services in the country's premier beach, ski and golf destinations.
For additional information, visit ResortQuest.com or call 1-800-GoRelax.
###