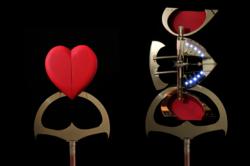 On the surface it appears as a heart, but when you begin pulling on the levers, turning keys and sliding the different parts, it transforms like magic.
Ohio (PRWEB) February 12, 2012
Just in time for Valentine's Day, Ohio artist Ryan Corbell has invented a captivating heart-shaped sculpture that metamorphoses into a working piece of art.
Corbell's invention starts out in the shape of a beautiful red Valentine, and then it transforms into something completely different. "On the surface it appears as a heart," Corbell said. "But when you begin pulling on the levers, turning keys and sliding the different parts, it transforms like magic."
The Valentine-shaped steampunk device is inspired in part by a childhood gift. "While going through boxes, I found this small wooden house from my childhood, it was like finding a lost treasure" recalled Corbell, who is now in his 30s. "I remembered exactly how it worked just like it was yesterday. The foundation slides and a small drawer are exposed. Inside the drawer is a key. The front doors of the house are then opened, and you insert the key and unlock it and then the roof flips up. Surprise! The house is actually a secret hiding place in disguise."
Corbell was completely fascinated by the wooden house, which was a gift from someone whom he thought of as a father. Ultimately, the house became one of his most cherished possessions. Corbell said: "Never underestimate the impact a gift like this can have on a young child. Some day the child grows up and is inspired to create art or becomes an inventor or a scientist. Who knows?"
Additionally, the sculpture was inspired by the story of Alice in Wonderland. It is also reminiscent of the inner workings of automata, which often used brass mechanisms and clockwork-type motions to create a primitive form of animation. In addition, the juxtaposition of modern technology with more primitive form conveys the essence of steampunk. The mechanical heart uses a bit of science fiction, fantasy and gothic aesthetics to reveal a wonderful surprise inside.
Examining and reconfiguring objects was a natural part of Corbell's upbringing. Raised mostly by his Depression-era grandparents, Corbell was always looking for things in the house to experiment with. "My grandparents kept everything, especially my grandmother," he said. "I had a blast taking things apart and rebuilding them. I basically had my own workshop in the basement."
Today, Corbell uses that same inquisitive nature to create uniquely functional pieces of art. He makes artistic pieces that combine form and function, so they not only look aesthetically-pleasing but also serve a useful purpose. He encourages others to use their imagination and hands to create their own work of art. It all starts with making a prototype of the concept, he says. "Making a prototype allows your idea to come to life," he explained. "You keep refining it, making it run smoother, and reshaping the form of it. It can be art—but it doesn't have to be."
For more information about Corbell's distinctive art, please email artofcorbell(at)gmail(dot)com. Or watch a video of the Queen of Hearts steampunk inspired staff magically transforming on YouTube.
###