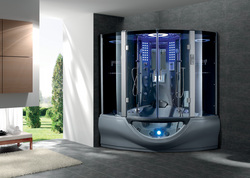 Until recently, replacing your traditional shower meant a new look and maybe a new showerhead.
Kansas City, MO (PRWEB) March 10, 2011
Newer, luxurious, and feature rich steam showers are emerging as homeowners most sought after replacement shower. Until recently, replacing your traditional shower meant a new look and maybe a new showerhead. Now replacing that traditional shower is full of exciting possibilities with the development of extravagant steam showers.
MyBathUSA.com predicts that in less than 30 years more than 50% of traditional shower installations will be replaced by steam showers. This includes both remodels and new construction.
Why the sizeable increase of steam shower installations in the US by 2040?
1. The US population more and more looks for ways to stay healthy and relaxed and steam showers offer a number of relaxing health benefits absent in the traditional shower.
2. Steam showers are typically less expensive to install than a traditional shower. Why? There's no need to tile walls or floors, install acrylic wall panels, etc. Whereas steam showers are freestanding units able to fit in place around your bathrooms dry wall and existing floor.
3. Freestanding steam showers are durable and built to last. MyBathUSA.com steam showers are suitable for commercial use and can be operated 24 hours a day if needed.
4. Steam showers offer consumers a home spa replete with acupressure and foot massage, heated whirlpool bathtub, aromatherapy, chromo therapy, rainfall showerhead, LCD TV with media input, phone, music, and more. All these steam shower features available to consumers at home can save money as day spas, fitness and health facilities, and spa vacations become more and more expensive.
With all that steam showers offer from durability to technology, steam showers are becoming more economical for consumers needing to replace a traditional shower, looking for health benefits, desiring relaxation, and a new way of life.
Many consumers who have already replaced their traditional showers with steam showers have found that their steam showers deliver the perfect blend of luxury, technology, and design consumers request.
###