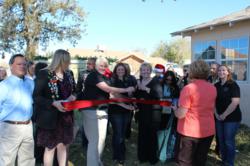 STE "has done wonders for him. I now have hope for a brighter future for my little boy, who has just thrived after receiving this treatment!"
Alamogordo, NM (PRWEB) December 07, 2012
STE Consultants has served over 2,000 families in the past 10 years and specializes in providing Applied Behavior Analysis (ABA) services to children diagnosed with autism and other developmental disabilities. STE's first Autism and Developmental Disabilities Clinic was opened in Alamogordo, to help support the growing community of military and civilian families with children with autism. Kristen Kelly, STE's Texas Regional Director, says that she is "excited to be able to bring these services to children and families, who otherwise, may not be able to access services."
When STE Consultants learned that many children in Alamogordo were not receiving services because their parents could not be at home throughout the day, which is where services are traditionally provided, they decided to take action. Mrs. Griffin, a parent of a child with autism reported that she "was in desperate need of services for my child, who was displaying many problem behaviors at daycare and at home. His behaviors were unmanageable by staff, and with no therapy or assistance available, I had to remove him and quit my job".
STE Consultants has worked with local school districts to have children dropped off at the clinic, where they receive services after school. This simple solution takes the burden off parents who are otherwise put in difficult situations in having to choose between their child's therapy and their family's income.
Mrs. Griffin stated that her child has been receiving ABA therapy from STE Consultants for the last year and recently reported that ABA therapy "has done wonders for him and has decreased his problem behaviors tremendously. I now have hope for a brighter future for my little boy, who has just thrived after receiving this treatment!"
STE Consultants is also currently working with many children diagnosed with autism spectrum disorder to increase their independence and promote social skills with their typically developing peers. To that end, STE Consultants is collaborating with Head Start to assist children with autism in their classrooms. A teacher at Head Start shared, "It has been most delightful working with the group at STE Consultants, embracing their knowledge and including them as part of our classroom family."
STE Consultants uses Applied Behavior Analysis (ABA) to create meaningful behavioral, social and academic outcomes for persons with developmental disabilities. STE Consultants is providing intensive behavior services, social skills groups and parent trainings for families at the Autism & Developmental Disabilities Clinic.
STE is in-network with many insurance companies and is in the process of becoming approved Medicaid providers in New Mexico. Learn more about the services at the Autism Clinic at http://www.steconsultants.com or by calling STE Consultants at (575) 415-3960.