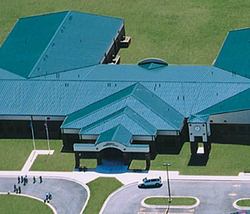 The Architectural Roof System Panels have a sidelap that can be formed into two types of seams
Mc Kees Rocks, PA (Vocus) October 2, 2010
The new "Architectural" Roof System showcased by Olympia Steel Buildings is designed for use on new construction and as a replacement roof for existing buildings where architectural appearance as well as weather resistance are important considerations.
"Many standing seam roof systems have a similar appearance to the new Architectural Roof System, but they have major differences in their performance," states Arnold Davis, President of Universal Steel Buildings Corp, sole distributor of Olympia Steel Buildings. "We are very excited about the new Architectural Roof System available as an option on Olympia steel buildings. It makes a beautiful roof profile on pitched roofs where the roof can be seen from the ground, making it very appealing to architects who want to enhance the look and appearance of the building. This unique roof system has many advantages over most other metal roof systems, and when properly installed the Architectural Roof System offers excellent weather resistance and is practically maintenance free."
The Architectural Roof System available on Olympia Steel Buildings consists of metal panels joined together by a unique factory-formed interlocking seam that is easily assembled and seamed in the field. "The Architectural Roof System Panels have a sidelap that can be formed into two types of seams," explains Davis. "The patented TripleLok™ seam, which will resist greater uplift forces than any known seam, and the QuadLok™ seam, formed by reforming the TripleLok™ seam to further tighten and form an additional strengthening bend. This allows a 24-gauge metal roof panel to resist uplift loads greater than even a 22-gauge panel. Because the TripleLok™ seam is such a superior seaming system, the additional strength of the QuadLok™ seam is required only at some roof edge zones and corners or on extremely high roofs in high wind areas where wind uplift forces are severe."
The Architectural Roof System steel panels are fabricated of Galvalume® coated steel and optional factory applied paint with an available color option to further enhance the beauty of this exceptional metal roof system. The Galvalume coated steel panels provide a long-lasting roof membrane with a proven weatherability in excess of 20 years. The Architectural steel panels are impervious to moisture and resist falling objects and roof traffic better than other roof membranes commonly used. The Architectural steel panels also resist live load and wind uplift without the complexity and cost required on other metal roofing systems.
About Olympia Steel Buildings
Olympia Steel Buildings are supplied by Universal Steel Buildings Corp, an industry leader in pre-engineered steel buildings for over 40 years, and sole supplier of Olympia Steel Buildings® to commercial, industrial, agricultural, residential, government, military and civilian agencies. Olympia Steel Buildings come with their outstanding weather-resistant PBR roof, or you can opt for their patented Zeus-Shield® standing seam metal roofing system. GSA approved Olympia Steel Buildings set themselves apart by using better materials, better quality control, exceptional customer service and industry-leading warranties, including a 25-year rust through perforation warranty and a 50-year warranty on the structural frames. Olympia pre-engineered steel buildings are precision engineered and expertly erected to give you a "tight" building that reduces air infiltration into the building saving on HVAC costs. They offer 12 energy efficient colors for metal buildings to reduce cooling costs and come with a 40-year warranty against chipping, cracking, peeling or blistering. Because of such key features, Olympia pre-engineered steel buildings can qualify under LEED Green Building guidelines. For more information about Olympia Steel Buildings, visit their website http://www.olympiabuildings.com or call 888-449-7756 for more information.
###