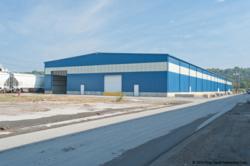 With A and S Steel Buildings our customers always come first
Pittsburgh, Pennsylvania (PRWEB) June 28, 2012
A and S Steel Buildings Corporation has been awarded a General Services Administration (GSA) Federal Supply Schedule Contract to supply and construct Olympia Steel Buildings® pre-engineered steel buildings to federal, state and local governments with eligibility to use GSA Schedules for select purchases, saving taxpayers money.
With their extensive knowledge and experience in all aspects of steel building design, engineering and construction, A and S offers complete turnkey solutions. Described as "your one stop shop for pre-engineered steel building construction," A and S supplies pre-engineered steel buildings and metal building systems, manages building erection and provides comprehensive construction services, including: complete steel building design and construction; pre-engineered steel building sales; management of site preparation; pre-engineered metal building installation and erection, as well as complete turn-Key solutions.
"Our experienced contractors get the job done on time and in budget with services that include foundation or slab preparation, steel building erection and installation of windows, doors, gutters and downspouts," states Kevin Gallagher of A and S Steel Buildings Corporation.
"With A and S Steel Buildings our customers always come first. We take pride in our personalized and professional customer service from our first meeting with the customer to discuss their needs through project completion. We take time to build confidence that the customer's building project with be completed to their specifications while receiving outstanding customer service."
As a GSA contract holder, A and S Steel Buildings is certified to supply and erect prefabricated buildings, including Olympia pre-engineered steel buildings and metal building systems to Federal, State and Local Governments and agencies authorized to purchase under GSA Schedule 56, Contract Number GS-07F-0394X, SIN 361-10A Pre-engineered and Prefabricated Buildings and Structures for Storage Solutions and SIN 361-32 Ancillary Services (Installation & Erection). Programs that allow state and local government to use GSA Schedules for select purchases include disaster recovery purchasing for supplies and services purchased directly from Schedule contractors to aid in recovery from Presidentially-declared major disasters or acts of terrorism. On-line access to contract ordering information, terms and conditions, up-to-date pricing, and the option to create an electronic delivery order are available through the GSA Advantage! Website, a menu-driven database system.
Recent A and S Steel Buildings projects include supply and construction of two pre-engineered metal buildings to DDM Properties for Jo's Globe Distributing CO, a retail beer distributorship in Morgantown, West Virginia. Another recent A and S project was supply and construction of a one-hundred thirty-two-unit mini-storage rental facility in Hagerstown, MD, comprised of three 3,000 square foot steel buildings and one 3,600 square foot prefab mini-storage steel building totaling out to one-hundred thirty-two storage rental compartments. A and S also supplied and installed an Olympia Steel Buildings pre-engineered metal building to Fortune Plastic & Metal, a recycling company based in Dallas, Texas as part of a turnkey construction package. A and S has also recently engaged to supply and construct a new Olympia Steel Buildings pre-engineered steel building for Winchester Virginia Church of God. The multi-use building will serve as a church sanctuary and worship space, meeting hall and recreation center complete with a full-size basketball court.
About A and S Steel Buildings
A and S Steel Buildings Corporation is the construction division of Universal Steel Buildings Corp. an industry leader in pre-engineered steel buildings for over 40 years, and sole supplier of Olympia Steel Buildings® to commercial, industrial, agricultural, residential, government, military and civilian agencies. GSA approved Olympia Steel Buildings set themselves apart by using better materials, better quality control, exceptional customer service and industry-leading warranties, including a 25-year rust through perforation warranty.
Olympia pre-engineered steel buildings are precision engineered and expertly erected to give you a "tight" building that reduces air infiltration into the building saving on HVAC costs. They offer 12 energy efficient colors for metal buildings and standing seam metal roofs to reduce cooling costs and come with a 40-year warranty against chipping, cracking, peeling or blistering. Olympia Steel Buildings come with their outstanding weather-resistant PBR roof, or you can opt for their patented Zeus-Shield® standing seam metal roofing system. Because of such key features, Olympia pre-engineered steel buildings can qualify under LEED Green Building guidelines. For more information about Olympia Steel Buildings, visit their website http://www.OlympiaBuildings.com or call 888-449-7756 for more information. For information about A and S Steel Buildings, please visit http://www.A-and-S-Steelbuildings.com.