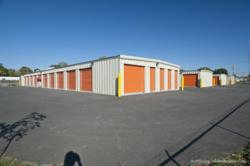 I have a high level of confidence and trust in our Olympia Mini-Storage specialist
Unionville, Ontario (PRWEB) July 25, 2012
Olympia Steel Buildings of Canada has contracted to design, engineer and supply one Olympia Steel Buildings® pre-engineered mini-storage warehouse metal buildings for a new mini-storage business in Calgary, Alberta. The project consists of one 552 square meter storage facility. Construction of the facility is scheduled to be completed in spring 2012.
As the self storage building business has grown into a multi-billion dollar industry with current businesses expanding and new companies starting up every day, Olympia Steel Buildings is reaching out to businesses to become their self storage building partner, working to provide secure and cost-effective self storage warehouses and mini-storage facilities that best suit their requirements. Olympia Steel Buildings supplies customized mini storage buildings with individual rental unit sizes in various combinations to optimize your consumer market demands.
"I have a high level of confidence and trust in our Mini-Storage specialist, Annabelle Miranda," affirms mini-storage business owner, Eric Grimshaw. "I appreciated her consistent and professional follow-up throughout the entire project from start to finish."
Olympia Steel Buildings strives to provide a variety of sought after features and benefits to self-storage building customers, including twelve panel and trim colors and virtually maintenance free durable materials.
"I am confident that our mini-storage steel buildings meet and exceed industry standards," states Annabelle Miranda, Olympia sales consultant. "That is the reason our customers choose Olympia steel buildings for their self storage building needs. Our self storage buildings are the best that money can buy."
Olympia Steel Buildings continues to strive to provide quality, selection and great customer service on pre-engineered self-storage metal buildings, proving that Olympia Steel Buildings pre-engineered self-storage and mini-warehouse metal buildings are an economical solution to any self-storage business need.
About Olympia Steel Buildings
Olympia Steel Buildings is a proud member of The Canadian Self Storage Association (CSSA). Olympia Steel Buildings are supplied by Universal Steel Buildings Corp, an industry leader in pre-engineered steel buildings for over 40 years, and sole supplier of Olympia Steel Buildings® to commercial, industrial, agricultural, residential, government, military and civilian agencies. Olympia Steel Buildings come with their outstanding weather-resistant PBR roof, or you can opt for their patented Zeus-Shield® standing seam metal roofing system. GSA approved Olympia Steel Buildings set them apart by using better materials, better quality control, exceptional customer service and industry-leading warranties, including a 25-year rust through perforation warranty.
Olympia pre-engineered steel buildings are precision engineered and expertly erected to give you a "tight" building that reduces air infiltration into the building saving on HVAC costs. They offer 12 energy efficient colors for metal buildings to reduce cooling costs and come with a 40-year warranty against chipping, cracking, peeling or blistering. Because of such key features, Olympia pre-engineered steel buildings can qualify under LEED Green Building guidelines. For more information about Olympia Steel Buildings of Canada, visit their website http://www.olympiasteelbuildings.ca or call 866-479-3292 for more information.