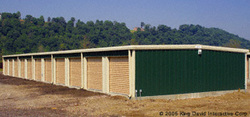 Olympia wants to be your self-storage partner
Mc Kees Rocks, PA (Vocus) September 22, 2010
Olympia Steel Buildings recently announced the launch of their new mini-storage steel building system designed to address the needs of the self-storage industry that has grown into a multi-billion dollar business in recent years, with current businesses expanding and new companies starting up every day. "Olympia wants to be your self-storage partner," states Arnold Davis, President of Olympia Steel Buildings, addressing the needs of this growing segment of the economy. "We recognize the needs of self-storage facility managers and owners for a secure, cost-effective and attractive building that meets and exceeds code requirements and customers' expectations. We want to work with you to provide a secure, flexible and cost-effective storage alternative for your customers and our new mini-warehouse steel buildings system does all this and more. We have worked hard to design and develop an attractive, cost-effective and virtually maintenance free pre-engineered steel building that will meet the exacting needs of our growing self-storage facility customers."
The self-storage industry operates in all parts of the economy from residential neighborhoods to industrial parks, urban areas and rural settings all over America. Owners and managers require that their facilities meet and exceed industry standards for quality, reliability, convenience, and accessibility. "Olympia Steel Buildings delivers the quality that owners and managers expect with our multi-functional mini storage, self-storage and mini-warehouse steel buildings and metal building kits", states Davis. "With the expert assistance of Olympia's building consultants, customers find that Olympia steel buildings are a very economical solution to their self-storage facility needs."
Olympia Steel Buildings' knowledgeable pre-engineered steel building consultants help self-storage facility owners develop their self-storage facility plans cost effectively and efficiently, carefully guiding them through the purchase and design process. A variety of popular mini-storage building layouts are available to choose from to simplify the decision making process. Experienced factory in-house engineers and drafting experts then design each facility to meet the customer's specific requirements. All structural framing is hot-dip galvanized making Olympia self-storage steel buildings maintenance-free for the life of the facility. Precision fabrication allows the buildings to be erected quickly onsite, minimizing labor costs. Unlimited sizes accommodate the needs of many different customers and units can be easily expanded to accommodate future growth. Steel panels and steel framing provide excellent fire resistance, lowering insurance costs and providing confidence to the self-storage facility owner and customer alike.
Owners love the features and benefits that an Olympia steel building offers, including twelve panel and trim colors and a colored roof option to create an esthetically pleasing appearance in any setting, two types of insulation and the virtually maintenance-free, durable materials used in every Olympia steel buildings. "Customers are pleased with Olympia's quality, selection and unsurpassed customer service," Davis explains. "This is why they choose Olympia Steel Buildings for their self-storage facility needs."
About Olympia Steel Buildings
Olympia Steel Buildings are supplied by Universal Steel Buildings Corp, an industry leader in pre-engineered steel buildings for over 40 years, and sole supplier of Olympia Steel Buildings® to commercial, industrial, agricultural, residential, government, military and civilian agencies. Olympia Steel Buildings come with their outstanding weather-resistant PBR roof, or you can opt for their patented Zeus-Shield® standing seam metal roofing system. GSA approved Olympia Steel Buildings set themselves apart by using better materials, better quality control, exceptional customer service and industry-leading warranties, including a 25-year rust through perforation warranty and a 50-year warranty on the structural frames. Olympia pre-engineered steel buildings are precision engineered and expertly erected to give you a "tight" building that reduces air infiltration into the building saving on HVAC costs. They offer 12 energy efficient colors for metal buildings to reduce cooling costs and come with a 40-year warranty against chipping, cracking, peeling or blistering. Because of such key features, Olympia pre-engineered steel buildings can qualify under LEED Green Building guidelines. For more information about Olympia Steel Buildings, visit their website http://www.OlympiaBuildings.com or call 888-449-7756 for more information.
###