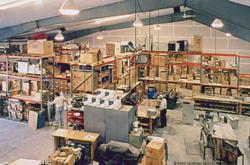 They were impressed with the quality control they saw when they visited the metal building manufacturing plant and the fact that Olympia Steel Buildings is a member of LEED and committed to Green building principles
Pittsburgh, Pennsylvania (PRWEB) March 21, 2012
Universal Steel Buildings Corp recently supplied a five-thousand square foot pre-engineered steel building to Fastenal for a new store located in Lower Burrell, near Greensburg, PA. The building is designed with a standing seam metal roof in Galvalume® steel and uses heavy-duty 24 gauge steel on all panels, including sidewalls. The exterior of the building uses a "cool" paint coating in light stone and the trim is polar white. All interior beams are painted white, and when completed the building will be insulated with the "simple saver" insulation system. Construction is being done by Universal Steel Buildings construction division and is slated for completion at the end of March 2012.
"The customer was great to work with," asserted Victor Gutierrez III, Universal Steel Buildings sales manager. They had done lots of shopping around and even visited the factory in Ambridge before they decided on going with Olympia Steel Buildings."
Fastenal is a supplier of a myriad of essential items, from fasteners, to cutting tools and plumbing, HVAC and automotive. The company has its own national distribution network to provide needed supplies for the local communities they serve. Each of their 2,500+ local stores is also a one-stop source for the supplies needed to prepare for and deal with natural disasters, from bottled water and first aid supplies to safety gear, flashlights and power tools. As part of the company's "Green Corporate Responsibility" initiative, they are ensuring that any new building or refurbishment plans adhere to current environmental standards and energy conservation requirements. Where possible, they source materials from suppliers who operate in an environmentally friendly manner and who, to reduce delivery miles, are geographically local. A lot has changed within the company in their more than 40 years of operation. The original single store with the wooden door for a front desk has been replaced by more than 2,500 stores with locally tailored inventories and modern merchandising, including the new 5,000 s.f. pre-engineered steel building supplied and constructed by Universal Steel Buildings to serve the local community near Greensburg, Pennsylvania.
"They were impressed with the quality control they saw when they visited the metal building manufacturing plant and the fact that Olympia Steel Buildings is a member of LEED and committed to Green building principles. Because our steel buildings are Green and environmentally friendly and steel can be recycled, the fact that we use "cool" paints that reduce energy usage and the company's carbon footprint, and that we are geographically local, all sealed the deal for them."
About Olympia Steel Buildings
Olympia Steel Buildings® are supplied by Universal Steel Buildings Corp, an industry leader in pre-engineered steel buildings for over 40 years, and sole supplier of Olympia Steel Buildings® to commercial, industrial, agricultural, residential, government, military and civilian agencies. Olympia Steel Buildings come with their outstanding weather-resistant PBR roof, or you can opt for their patented Zeus-Shield® standing seam metal roofing system. GSA approved Olympia Steel Buildings set themselves apart by using better materials, better quality control, exceptional customer service and industry-leading warranties, including a 25-year rust through perforation warranty.
Olympia pre-engineered steel buildings are precision engineered and expertly erected to give you a "tight" building that reduces air infiltration into the building saving on HVAC costs. They offer 12 energy efficient colors for metal buildings to reduce cooling costs and come with a 40-year warranty against chipping, cracking, peeling or blistering. Because of such key features, Olympia pre-engineered steel buildings can qualify under LEED Green Building guidelines. For more information about Olympia Steel Buildings, visit their website http://www.OlympiaBuildings.com/ or call 888-449-7756 for more information