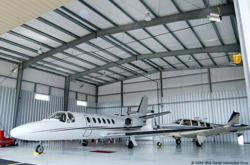 After the successful install at Vancouver Airport we wanted a repeat performance in Edmonton, Alberta.
Unionville, Ontario (PRWEB) September 13, 2012
Olympia Steel Buildings of Canada has contracted to design, engineer and supply one Olympia Steel Buildings® pre-engineered aircraft hangar metal building for a new de-icing facility at Edmonton Alberta International Airport. The project consists of one 1,480 square meter Hanger facility. Construction of the facility is scheduled to be completed in fall 2012.
Aero Mag 2000 is an incorporated company specialized in:

Aircraft de-icing/anti-icing activities.
Planning, design, construction, management & operation of centralized de-icing facilities at various international airports in North America.
Offering consulting services to fleet owners, commercial airlines and airport authorities on aircraft de-icing/anti-icing and centralized de-icing facilities.
Project Manager Etienne Limonges of Aero Mag is confident that Olympia Steel Buildings and John Montgomery will deliver a high quality product because this is the second hanger project Olympia Steel Buildings has provided.
"After the successful install at Vancouver Airport we wanted a repeat performance in Edmonton Alberta," says Project Manager, Etienne Limoges. "I am comfortable knowing every detail would be managed by Olympia Steel Buildings National Sales Manager John Montgomery."
Pre engineered steel buildings designed for aircraft hangar use by Olympia Steel Buildings are perfect for all your aviation storage needs. Our airplane hangar metal buildings are pre-engineered with a clear-span steel building design that can be up to 300-feet wide – plenty wide enough to accommodate FBO's, private planes and even commercial aircraft. Olympia airplane hanger metal buildings, storage aircraft hangars and military hangar operations steel buildings keep aircraft sheltered from the elements while providing ample space for equipment storage, plane maintenance and repair. You save money with Olympia Steel Buildings pre engineered aircraft hangars because we ship all buildings direct from the steel building factory. Aircraft hangars from Olympia Steel Buildings are pre-engineered at the steel building factory and delivered to the jobsite as a ready-to-assembly metal building package. They go up in less time than conventional airplane hangar construction and save you up to 50% in both time and materials off the cost of conventional construction while at the same time being Eco-friendly to the environment.
About Olympia Steel Buildings Serving Canada
Olympia Steel Buildings are supplied by Universal Steel Buildings Corp, an industry leader in pre-engineered steel buildings for over 40 years, and sole supplier of Olympia Steel Buildings® to commercial, industrial, agricultural, residential, government, military and civilian agencies. Olympia Steel Buildings come with their outstanding weather-resistant PBR roof, or you can opt for their patented Zeus-Shield® standing seam metal roofing system. GSA approved Olympia Steel Buildings set themselves apart by using better materials, better quality control, exceptional customer service and industry-leading warranties, including a 25-year rust through perforation warranty.
Olympia pre-engineered steel buildings are precision engineered and expertly erected to give you a "tight" building that reduces air infiltration into the building saving on HVAC costs. They offer 12 energy efficient colors for metal buildings to reduce cooling costs and come with a 40-year warranty against chipping, cracking, peeling or blistering. Because of such key features, Olympia pre-engineered steel buildings can qualify under LEED Green Building guidelines. For more information about Olympia Steel Buildings Serving Canada, visit their website http://www.olympiasteelbuildings.ca or call 866-479-3292 for more information.