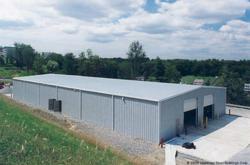 The TXMAS program allows federal, state, and local government purchasers to buy up to $1 Million in products and services, including prefabricated steel buildings, without having to go through a lengthy bidding process.
(PRWEB) October 23, 2012
Universal Steel Buildings Corp. was recently awarded a Texas Multiple Award Schedule Contract (TXMAS), enabling state and local agencies in the state of Texas to purchase Olympia Steel Buildings directly off TXMAS Schedule 56. On the basis of Universal Steel Buildings GSA contract first awarded in 2009, it was determined that the availability of Olympia Steel Buildings on TXMAS would add value to current TXMAS contractors' TXMAS Schedule 56 - Buildings and Building Materials/Industrial Services and Supplies, simplifying the purchase of Olympia pre-engineered and prefabricated steel buildings and metal building systems for state and local agencies within the state of Texas. The award of the TXMAS contract will simplify the buying process for Texas state and local agencies wishing to purchase an Olympia Steel Building for their building and construction needs.
The new program, called TXMAS (pronounced Tex Mas), was developed by the 2002 Texas legislature as part of a nationwide trend to make governments leaner and outsource many functions of government and to make it easier for State agencies and co-op members to purchase goods and services. As the existing system of obtaining bids for most services has proved to be cumbersome to both state agencies and government vendors, the Texas Comptrollers office actively encourages agencies to purchase from the TXMAS schedule. While the bidding process is still used for some of the purchasing functions of state and local governments, more and more purchasers are preferring to use TXMAS contracts as it is a much faster procurement tool. The Texas Procurement and Support Services (TPASS) has established the use of Texas multiple award schedule (TXMAS) contracts developed from GSA contracts awarded by the federal government or any other governmental entity of any state as an alternative purchasing method. In order to quality for a TXMAS contract, you must first have a federal GSA contract. Once you have obtained a GSA contract, a TXMAS (Texas Multiple Award Schedule) Contract will allow you to sell the same products and services to over 300 state agencies and 1,700 co-op members in the state of Texas without having to bid on every project.
As the responsible federal entity, the General Services Administration's (GSA) Federal Supply Service awards Federal Supply Schedule contracts through competitive procurement procedures for more than 50 schedules that cover multiple commodities and services. TXMAS contracts take advantage of GSA schedule pricing and a "best value" purchase can be made by following the TXMAS purchasing procedures. The TXMAS Program adapts existing competitively awarded government contracts to the procurement needs of the State of Texas, providing a tool that allows federal, state, and local government purchasers to buy up to $1 Million in products and services, including prefabricated steel buildings, without having to go through a lengthy bidding process.
About Olympia Steel Buildings
Olympia Steel Buildings® are supplied by Universal Steel Buildings Corp, an industry leader in pre-engineered steel buildings for over 40 years, and sole supplier of Olympia Steel Buildings® to commercial, industrial, agricultural, residential, government, military and civilian agencies. Olympia Steel Buildings come with their outstanding weather-resistant PBR roof, or you can opt for their patented Zeus-Shield® standing seam metal roofing system. GSA approved Olympia Steel Buildings set themselves apart by using better materials, better quality control, exceptional customer service and industry-leading warranties, including a 25-year rust through perforation warranty.
Olympia pre-engineered steel buildings are precision engineered and expertly erected to give you a "tight" building that reduces air infiltration into the building saving on HVAC costs. They offer 12 energy efficient colors for metal buildings to reduce cooling costs and come with a 40-year warranty against chipping, cracking, peeling or blistering. Because of such key features, Olympia pre-engineered steel buildings can qualify under LEED Green Building guidelines. For more information about Olympia pre-engineered steel buildings, visit their website http://www.OlympiaBuildings.com or call 888-449-7756 for more information.