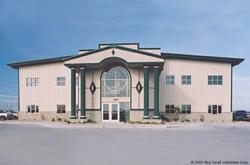 Visiting OlympiaBuildings.com will always be a good user experience, regardless of the device used to search the web
McKees Rocks, PA (PRWEB) December 31, 2012
Olympia Steel Buildings launches a new smart phone friendly website this week to respond to the growing demand for online steel buildings information, photos and videos by smart phone and tablet user.
Smartphone use is changing the internet and world wide web challenging web designers to create websites that not only look great on large flat-screen monitors, but also look great on tablets and smart phones. In response to this changing technology and user demand, Olympia Steel Buildings has redesigned its website using Responsive Web Design to address the importance of website accessibility on a variety of devices.
Wikipedia defines "Responsive web design" as "an approach to web design in which a site is crafted to provide an optimal viewing experience—easy reading and navigation with a minimum of resizing, panning, and scrolling—across a wide range of devices (from desktop computer monitors to mobile phones)."
Everyone has had the experience of coming across a website on their phone that just does not work, for a variety of reasons. Sometimes you're not able to work the dropdown menus. At other times there is too much content to scroll through. Responsive web design ensures that "visiting OlympiaBuildings.com will always be a good user experience, regardless of the device used to search the web," asserts company president, Arnold Davis.
About Olympia Steel Buildings
Universal Steel Buildings Corp is an industry leader in pre-engineered steel buildings for over 40 years and sole supplier of Olympia Steel Buildings® to commercial, industrial, agricultural, residential, government, military and civilian agencies. Olympia Steel Buildings come with their outstanding weather-resistant PBR roof, or you can opt for their patented Zeus-Shield® standing seam metal roofing system.
GSA approved Olympia Steel Buildings set themselves apart by using better materials, better quality control, exceptional customer service and industry-leading warranties, including a 25-year rust through perforation warranty. Olympia pre-engineered steel buildings and metal buildings systems are precision engineered and expertly erected to give you a "tight" building that reduces air infiltration into the building saving on HVAC costs. They offer 12 energy efficient colors for metal buildings and standing seam metal roofs to reduce cooling costs and come with a 40-year warranty against chipping, cracking, peeling or blistering. Because of such key features, Olympia pre-engineered steel buildings can qualify under LEED Green Building guidelines.
For more information about Olympia Steel Buildings, visit their website http://www.OlympiaBuildings.com or call 888-449-7756 for more information.