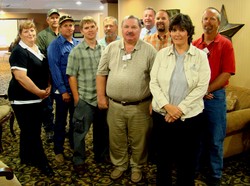 Many business owners and construction professionals are diversifying their services to increase revenue and build their customer base, and we are happy to help them grow their businesses. Capital Steel Industries looks forward to welcoming more Independent Dealers to the network
Littleton, CO (PRWEB) October 4, 2008
In the time of an economic slow-down, building with steel is becoming an increasingly popular choice for construction industry professionals.
Capital Steel Industries, a leader in the steel building industry, welcomed more than a dozen new Dealer representatives from across the country to quarterly training in Littleton, Colorado last month. During the intensive one-day training session, Dealers meet the Capital Steel staff members, share and learn marketing strategies and gain familiarity with the administrative and on-site steel building construction processes.
Independent Dealers in the Capital Steel network find innovative ways to provide quality steel building construction and "turn key" service for their customers while keeping a close eye on the customer's budget.
Steel buildings provide customers with substantial savings over traditional brick, masonry and wood construction.
As Americans become more environmentally conscious, more and more new construction projects incorporate steel for its ecological or "green" benefits. According to the Steel Recycling Institute, two out of every three pounds of new steel are produced from old steel and in 2007, over 67 million tons of steel scrap was recycled in the United States.
"Many business owners and construction professionals are diversifying their services to increase revenue and build their customer base, and we are happy to help them grow their businesses. Capital Steel Industries looks forward to welcoming more Independent Dealers to the network," said Mike Downing, Capital Steel Industries' General Manager.
The corporate home of Capital Steel Industries is located in the town of Littleton, Colorado. Just minutes from scenic Red Rocks Amphitheater and 25 miles from downtown Denver, many Dealers arrive a day prior to the training to enjoy regional attractions and the beauty of the Rocky Mountains.
About Capital Steel Industries:
Capital Steel Industries supplies the highest quality pre-engineered steel buildings available to the North American and Hawaiian market. Capital Steel's leadership and management team have over 60 years experience in designing and managing the fabrication of pre-engineered steel buildings. The company's corporate office is located in Littleton, Colorado.
Written By: Carolyn Ennis
###