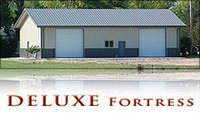 Centennial, CO (PRWEB) August 28, 2009
With the superior design of the new Price A Building website (http://www.priceabuilding.com ), customers have the option to choose from several pre-set packages. These packages consist of the pre engineered steel buildings (numerous sizes to choose from) coupled with a variety of accessories (such as insulation, windows, walkdoors and overhead doors) all included in one low price. All the customer needs to do is choose which package that suits their needs the best and click just once, instead of moving through page after page after page on other websites to add the same amount of accessories. Even the placement of the framed openings for the overhead doors have been set in such a way as to lower the overall cost of the pre-fabricated buildings. By pre-determining the framed opening locations, Price A Building is able to brace the building in the most cost effective way and pass those savings on to the consumer.
Before the package is chosen, though, the customer must call their local building department to find out the specific loading requirements (including roof snow, wind, exposure and seismic) that their steel buildings are going to have to meet. They should also inquire about any restrictions that might pose a problem with erecting a metal building on their property. Price A Steel Building offers many combinations of these design loadings so everybody, whether living on the snowiest mountain top or in the windiest coastal town, can utilize and benefit from Price A Building's new on-line purchasing.
Price A Building realizes that the steel building industry is very competitive. They also believe that low prices combined with the ease of ordering will make Price A Building's new on-line shopping website the one stop source for all potential customers' metal building needs. By using Price A Building's new website, the customer gains access to the lowest prices every day of the week, not just a special sale here and there. And keep in mind, lower price doesn't have to mean lower quality. Customers will be amazed by how much they can save without sacrificing quality when they buy their metal barn or metal garage from Price A Building's new on-line shopping website.
This press release was sponsored by Denver SEO
###