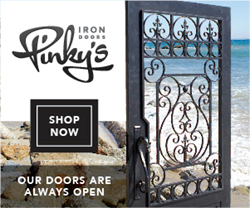 Beautifully crafted steel doors just got a contemporary make-over with the Air Collection offered by Pinky's Iron Doors.
Los Angeles, CA (PRWEB) October 12, 2016
Pinky's Iron Doors unveils its newest line of steel entry doors for contemporary-styled homes. Air Collection doors are designed with clean, simple lines and expansive glass panes that enhance curb appeal and help to optimize natural indoor lighting for serene modern interiors.
Wrought iron doors have been prized for centuries for their inherent strength and beauty. Classic wrought iron door styles are noted for their intricate patterns that add decorative interest to traditional homes. The doors' unique designs make them works of art on their own. However, many homeowners have embraced modern architecture layouts that emphasize simple angles and curves for clean, uncomplicated looks. When it comes to selecting steel entry doors that match contemporary lifestyles and personal tastes, the Air Collection gives these homeowners a wider array of options from which to choose.
Steel doors such as those in Pinky's Air Collection add an unmistakable touch of timeless elegance to any property, which is why they are prime choices for use in residential and commercial entryways. However, these doors do not get by on looks alone. Their durability and strength give property owners the assurance that they will maintain their function and appearance through years of exposure to harsh outdoor elements. According to many home remodeling experts, an effective way to increase a property's value is to replace the front door. Air Collection metal and steel doors lend an upscale look to real estate that can be appreciated by property owners, home buyers and the entire community.
Quality materials, a large selection of ready-made styles and customized options are just a few reasons why property owners would select Air Collection doors over competitors' offerings. Each Air Collection door is hand-forged from 12-gauge steel. Numerous single and double door styles for the Air Collection include arches, flat tops and flat tops with illusion arches. Customers can also choose from among several different door colors and glass patterns. Foam insulation and optional Low-E glass panes make the Air Collection an attractive and energy-efficient entry door option.
About Pinky's Iron Doors
Pinky's Iron Doors is a family-owned and operated business that is located in Los Angeles, California and serves residential and commercial property owners throughout the United States. The company implements a streamlined procurement process that allows U.S. customers to order quality, installation-ready doors online. Although Pinky's boasts one of the largest showrooms and widest selections of iron doors in Greater Los Angeles, customers can work with the company's design experts to create custom doors when ready-made items do not meet their needs. Pinky's Iron Doors was founded by Dion Der in 2014. He and his team have over 40 years of experience producing custom-crafted wrought iron doors and accessories.
***