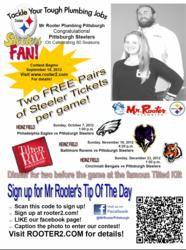 Sneak peak for anyone who signs up for Mr Rooter Tip Of The Day before 11:45 am Friday, EST!
Pittsburgh, Pennsylvania (PRWEB) September 14, 2012
Mr Rooter Plumbing Pittsburgh is proud to announce the "Caption The Photo" contest Friday, September 14, 2012 @ Noon!
Sneak peak given to anyone who subscribes for Mr Rooter Tip Of The Day between now and tomorrow at 11:45! Free Steeler tickets for three different home games, three pairs of tickets, and three Tilted Kilt gift certificates! Watch for bonus rounds to win a free Terrible Towel, compliments of the most referred plumber in the Southwest Pennsylvania and Northeast Ohio region!
Sign up in the right corner…tackle your tough plumbing jobs at home with this vast library of FREE information provided by Bob Beall, master plumber and president of Mr Rooter Plumbing Pittsburgh!
Like our page @ Facebook here!
Debra Santavicca, PR, SMM, WebIT
Mr Rooter Media Center
724-553-9510
http://www.rooter2.com