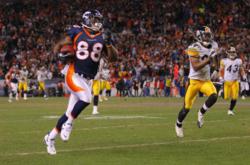 Pittsburgh, PA (PRWEB) September 07, 2012
Many fans around Pittsburgh still have a sour taste in their mouth after the way the Steelers were kicked out of the playoffs, but Steelers tickets are still smoking. The Steelers allowed Tim Tebow arguably the least respected quarterback in the NFL to throw for 300 plus yard and hit Demaryius Thomas on a stunning 80-yard touchdown pass on the first play of overtime. Catapulting the Broncos to a stunning victory over Pittsburgh Steelers 29-23 in the AFC wild-card game last season.
Many things have changed since that playoff game, Tim Tebow has moved on to the New York Jets and Peyton Manning is now at the helm for the Denver Broncos. This Sunday at 8pm on prime time television Steelers versus Broncos "The ReMatch" will be played in Denver Colorado. Despite the switch of quarterbacks the Steelers are looking to put the Broncos back in their place, so to speak.
In Denver, tickets for the game are expensive ranging from $130 per seat to $1082 per seat but that has not stop fans from spending money on the a chance to see Peyton Manning's first game as a Bronco and it just so happens to be against the Pittsburgh Steelers. At HeadlineTicket.com they have the lowest out the door prices on the ticket exchange after fees and delivery are added. Many fans have already taking advantage of the lower cost tickets from the Pittsburgh based ticket website who also provides an extra savings discount code for all NFL Tickets. Discount Code "NFL2012" saves fans 2 percent.
About Headline Tickets Now
Headline Tickets Now is one of the most popular secondary ticket websites on the Internet. They have affordable sports, theater, and concert tickets across the United States and Canada, all without service fees. Headline Tickets Now is an accredited business with the Better Business Bureau (BBB) of Western Pennsylvania.