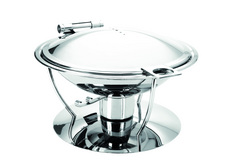 La Tavola brings Steelite International a metal product offering for the Four and Five star operator.
New Castle, PA (PRWEB) May 4, 2010
Ceramic tableware manufacturer Steelite International America is pleased to announce a partnership with La Tavola, designer, manufacturer and supplier of quality tableware for commercial foodservice and high end global markets. The partnership will enable Steelite International to exclusively market their high-end design led portfolio of flatware, buffet and hollowware collections in the United States, Canada, and Caribbean effective immediately.
"Our investment in La Tavola represents our desire to meet our customers' expectations for quality products at all levels," remarked John Miles, president of Steelite International. "La Tavola brings Steelite International a metal product offering for the Four and Five star operator. We strongly believe that the commitment the Sambonet family makes every day to quality craftsmanship and service will manifest itself in a fantastic result for this new and exciting joint venture."
"Establishing a brand in a new market requires a wide array of skills and assets," said Guilio Sambonnet. "La Tavola and Steelite International are undertaking this thrilling challenge by pooling a 7-generation experience in fine tableware craftsmanship, a state-of-the-art sales and marketing force and a genuine passion for the tabletop. We feel confident that the partnership with a solid actor such as Steelite International will soon bring the La Tavola brand on top of the US hospitality markets operators' minds."
About Steelite International:
Steelite International is a world leading manufacturer of ceramic tableware products that are designed and developed specifically for the global hospitality market. Their core brands, 'Distinction' and 'Performance', are complemented by collections from specialist partners such as La Tavola, Bormioli Rocco USA, Rene Ozorio, Narumi, Anfora, Montgatina, Rona, Roselli Design, and Worthy, Noble and Kent. Steelite's product portfolio remains at the leading edge of foodservice presentation.
About La Tavola:
La Tavola is a leading designer, manufacturer, and supplier of top quality tableware for the high end and commercial foodservice global markets. Headquartered in Vercelli, Italy and founded by Sergio and Giulio Sambonet, La Tavola is the definitive table-top couturier of 4 and 5 star hoteliers.
Media Contact:
Kimberly Faloon
Steelite International America
1-330-383-3356
kfaloon(at)steeliteusa(dot)com
# # #