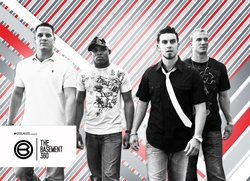 A lot of teenagers and young adults are turned off by religion, and I know because I was one of them
Indian Land, SC (Vocus) October 23, 2009 -–
Steelroots, one of the leading producers of television programs for young people, today announced a partnership with Birmingham, AL-based evangelist Matt Pitt that brings a new reality TV series called "The Basement 360" to more than 57 million U.S. cable and satellite households on INSP – The Inspiration Network on Saturdays at 11:00pm EST.
Filmed throughout Birmingham "The Basement 360" follows Pitt and the team (Casey Holland, Ike Ubasineke, and Justin Standridge) from his popular ministry event "The Basement" –– as they take a radical approach to ministry with an in-your-face message of hope and encouragement.
Pitt, a former drug dealer and addict, launched The Basement in 2004 after a shape-up-or-ship-out ultimatum from his parents and what he describes as "a dramatic encounter with God in his parent's basement." Described by some as part church service, concert, and club, The Basement attracts thousands of people from all walks of life to Birmingham's Church of the Highlands on the last Tuesday of every month to hear messages from Pitt along with live Christian Hip Hop music performed by local artists and some of the biggest names in Christian music.
Pitt says that he's excited about "The Basement 360" because it's another vehicle for him to reach this hard-to-reach community.
"A lot of teenagers and young adults are turned off by religion, and I know because I was one of them," says Pitt. "That's why this partnership with Steelroots is so important. I want to reach people across the country who are struggling with addictions and strongholds – just like I was - and who feel like they've been forsaken. My past should have led me straight to jail or the grave. If God can save me, He can save anyone. We're going to bring young people the truth of the Gospel and at the same time, have fun while we're doing it. "
"Matt Pitt is a perfect match for Steelroots," said Ben Cerullo, President and Founder of Steelroots. "We both have a burning desire to share the Gospel with young people in a language that's relevant to them because we know that they're craving something real. And anyone who's visited The Basement knows that Matt keeps it real. We look forward to working with Matt and his team in the weeks and months ahead on 'The Basement 360.'"
The Basement is one of several outreaches from Pitt's "Whosoever Ministries." The ministry also offers programs for middle school, high school and college students in the Birmingham area and has gained widespread support throughout Birmingham for tackling tough issues such as teen violence and drug use, school drop out rates, and binge drinking among college students. Whosoever Ministries also works closely with local and national congregations and pastors to curb the tide of young people leaving the church. For more information visit http://www.thebasementonline.com .
Steelroots is adding "The Basement 360" to a solid line-up of award-winning programs that appeal to young people in-and-outside of church. Steelroots produces a variety of original, cutting edge programs that include the music series, "Countdown," "Steelroots – The Show," and its newest hit, "The Uprising," a reality TV series featuring pro skateboarders Jay Haizlip, Christian Hosoi, and Brian Sumner.
INSP is available in 57 million homes across the US on more than 2,400 cable systems and on DIRECTV channel 364 and DISH Network channel 259. Viewers can check their local program guides for channel line up information. "The Basement 360" also airs 24/7 at http://www.steelroots.com and internationally on INI – Inspiration Network International. INI reaches more than 80 million homes worldwide in 118 nations.
About Steelroots:
Launched in 2000, Steelroots is one of the expanding outreaches of the Inspiration Ministries. Since its launch, Steelroots has become a leading provider of Christian content for youth and young adults, using television, Internet, print media, products, and special events to accomplish its vision of "revealing the Truth to today's generation." Steelroots' original television programs include "Steelroots – The Show," "Countdown," "The Uprising," and special programs that address timely topics. Steelroots TV airs in 118 countries and in more than 135 million households worldwide through INSP – The Inspiration Network and INI – Inspiration Network International. For more information visit http://www.steelroots.com .
Contact:
Kristina Hill
704-806-1511
###