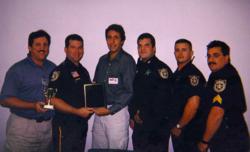 I am refreshed by man's humanity to his fellow man. Thank you Steinger, Iscoe & Greene!"
West Palm Beach, Florida (PRWEB) June 02, 2011
For nearly 15 years, two local Palm Beach county organizations have been stepping up to protect, fight for and make stronger families in our community – one through the empowerment of young lives and the other through protecting the rights of guardians and adults suddenly placed in a tough spot.
When Stellar Kids Inc. non-profit founder, Coach John Mistretta wanted to reach out to a local business for help this summer, to afford more parents' struggling financially a safe and inspiring place to send their kids, he decided to call one of the most recognizable business names in the market. When asked why he reached out to the personal injury law firm of Steinger, Iscoe & Greene, Mistretta said, "Years ago I visited Steinger & Iscoe to see about an accident. I left with some advice and did not pursue the legal matter, but everyone was very helpful and considerate. Fast-forward 13 years, when I started thinking of contacting a local business for help I remembered my experience with their firm."
Over the last 10 years that Coach John has been organizing and running Stellar Kids Camp, he has witnessed firsthand the effect that the economy has had not only on families, but also on charitable giving and especially on the children whose lives are directly impacted. "There was a need for help and though lots of law firms talk a good commercial, I knew Steinger, Iscoe & Greene had heart. It turned out that they were looking just as hard for me as I was for them - that we found each other is a product of my experience, persistence, and their compassion. They recognized the chance to directly impact our community, anyone and everyone eligible for help, in the most important area – child care and development," says Coach John.
While Coach John was preparing to contact the law firm with his request for support on behalf of parents and kids in need, Michael Steinger, heading into his 15th year as founding partner of Steinger, Iscoe & Greene law firm, was discussing ideas and options as to how the firm's charitable resources could genuinely and most effectively benefit lives in the community. The meeting of the minds happened only weeks later and after hearing each others' unique convictions toward helping the community at large, with children's needs always at the forefront, Steinger and Mistretta became partners in a great endeavor to impact lives.
Thanks to Steinger, Iscoe & Greene Injury Lawyers, this summer's leasing expense for Stellar Kids Camp is no longer limiting Coach John's vision to positively impact more children's lives. 100% of the $10,000 contribution by Steinger, Iscoe & Greene will go directly to the School District of Palm Beach County and School Principal Fund for the leasing of Odyssey Middle School for the 8 weeks of camp, June 6th – July 28th. For the past decade, Coach John has held summer camp annually for upwards of 170 children without a single major contributor. Through his steadfast dedication to youth empowerment alongside the Sherriff's Department, School Boards, Correctional Facility Counselors and After-school Program Directors, Coach John is able to minimize his operating costs for camp as vendors, community foundations and activity providers honor his commitment with significantly reduced rates for coaching, class instructors, activity rental equipment, sporting equipment and more. Stellar Kids Camp is significantly less expensive than other camps in the area – Mon-Thur 9a-4p is only $95 a week! Now that the tab has been picked up for use of Odyssey Middle School's grounds for the summer, Coach John is ecstatic to offer families who can use a break this summer partial scholarships, bringing camp tuition down to only $50 a week.
When asked about Steinger, Iscoe & Greene's 'picking up the tab' for Stellar Kids Camp's lease, founding firm partner Michael Steinger stated, "People today, more than ever, could use a little help. Coach John has been serving our community for years with a steadfast commitment to youth development. Based on his history and vision through Stellar Kids Camp, we had full confidence that our support would directly benefit the parents and children who could use some good news the most. I hope that our investment can inspire other local businesses to invest in the programs and visionaries who are making a real difference in the lives of real people and the future of our world, our youth."
Just as the opportunity to be a part of Stellar Kids' vision presented itself, Steinger was finalizing the filing documents for the Steinger Kids Foundation, to edify and formalize the firm's commitment to the children of South Florida. "We want to actually, powerfully help children and benefit lives in our community. South Florida has been our home since 1997, and the same way we have been fortunate to significantly benefit so many lives through our protection of injured people's rights, we want to help protect, empower and invest in the most vulnerable and helpless in our community, our children."
For more information, or to donate to Stellar Kids Camp, so even more children can attend camp this summer, please contact Stellar Kids Camp Founder, Coach John Mistretta at 561.577.3399 or send your tax-deductible donations to Stellar Kids Inc., 7394 Hazelwood Circle, Lake Worth, Florida 33467. To learn more about the Steinger Kids Foundation please contact Ms. Shaw Heydt, Marketing & Development Director, 561.779.1009, or Michael Steinger, Founding Partner, Steinger, Iscoe & Greene, 561.616.5550.
Praise for STELLAR KIDS INC and Coach John Mistretta's Youth Programs, Camps & Mentoring:
In a Palm Beach Post article highlighting Coach John Mistretta's work toward affordable youth sport programs, the Sheriff's Office statistics reflected a 15% decrease in the crime rate in the Concept Home community after just 2 years of youth sports programming. (Dec 2001)
"I can imagine few finer mentors than Mr. John Mistretta.. I am sure that students who have him as their mentor or supporter will benefit enormously." - Kathleen Weigel, Woodlands Middle Community School Principal
"He has been there for these students, listened to them and affirmed them in some way.... As many of us know it takes a village to raise a child. As part of our community, his effort has been extraordinary/ he has often gone far beyond the line of duty." - Team of 3 School Counselors, Woodlands Middle School, Lake Worth, Florida
"... He motivated these students. May of them were highly reluctant learners due to repeated academic failure, personal problems and peer pressure to participate in destructive behaviors. Mr. Mistretta has a special gift for motivating students. He helped them to sort our their concerns, analyse the pressures bearing down on them and understand the importance of an education.... He is an asset to our school and community." - Melanie Hubbard, Middle School Teacher
"John's heart and dedication toward the youth is commendable and well appreciated." - Scott Scrivner, Palm Beach County Sheriff's Office PAL Coordinator. (Comment after working with Mistretta and Stellar Kids Inc's youth basketball program.)
"Up until John 'stepped up to the plate' there was virtually no activities for these mostly under-privileged kids.... John's work gave these kids a sense of belonging to something special.... He also taught these kids respect and values. The best part of this is that John did this voluntarily, without asking for anything. At times John even took money out of his own pocket to provide for these kids... Words cannot express my appreciation and the community's appreciation for the work he's done." - Anthony Schillece, Palm Beach County PAL
Gratitude for Steinger, Iscoe & Greene Injury Lawyers' help:
"I would like to say THANK YOU Steinger, Iscoe & Greene for making it possible for my children to attend summer camp this year. God Bless you!" - Single Mother of 2 Stellar Kid Campers
"We are very grateful and thankful for your kindness and Steinger, Iscoe and Greene's kindness too!" - Parents of 2 Stellar Kid Campers
"I am refreshed by man's humanity to his fellow man. Thank you Steinger, Iscoe & Greene!" - Coach John Mistretta
Stellar Kids Inc References:
Mary Ellen Jones, Parent Liaison, Palm Beach County School Board, United Way, Arc, Special Olympics
Sam Agreste, Longest tenured teacher, and wrestling coach at Santaluces HS, DCT
Chairman, Palm Beach County Sports Commission
President of Community Relations, Phi Beta Kappa
Stellar Kid Camp Parents available for interview upon request.
###