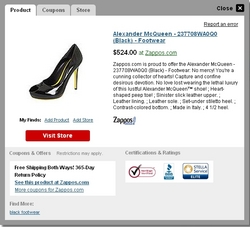 By integrating our detailed, unbiased customer service ratings and awards into search listings, we are fundamentally improving the way consumers make online purchasing decisions.
New York, NY (PRWEB) June 8, 2010
STELLAService, the first and only company dedicated to providing independent, comprehensive ratings on the customer service quality of online retailers, today announced that it is partnering with TheFind, a place where millions of people discover what to buy and where to buy it, to provide in-depth customer service ratings ("STELLA Ratings") for listed retailers in search results. In addition, merchants with high marks for customer service will automatically receive an enhanced listing that features the STELLAService seal, giving those retailers in the search results an edge over others lacking this coveted award for great customer service.
Starting in June, TheFind will display STELLA Ratings and STELLAService seals next to eligible retailers, enabling online shoppers to quickly and completely assess the quality of online stores right upfront within search results. With an increasing number of retailers selling the same product for similar or identical prices, the next competitive battleground for differentiation is the customer experience. By teaming up with STELLAService, TheFind will provide this increasingly important measurement of service quality to its shoppers, allowing them to make more informed and confident online purchasing decisions.
"Merchants who earn and display enhanced trustmarks like STELLAService on their web sites typically benefit from higher quality traffic and better conversion rates" said Ron Levi, VP of Product and Brand at TheFind. "By partnering with STELLAService to highlight their marks within TheFind's search results, TheFind is helping shoppers to identify those stores with the highest levels of customer service, and enabling merchants to differentiate themselves from their competition."
Visited by 23 million shoppers per month, TheFind makes it easy to search for any product, in every store, all at once. Shoppers who search on TheFind embrace its range of information about merchants and their offerings -- including pictures, descriptions, prices, coupons available, shipping deals, return policies, payment methods, social media links, and more. In June 2009, TheFind integrated the major security certifications VeriSign, McAfee, and buySAFE within its search listings to address consumer demand for security and privacy concerns. To address the next most pressing issues for today's online consumers, TheFind is integrating STELLA Ratings and STELLAService seals into its search results, helping online shoppers determine which online stores are really worth buying from.
While most comparison shopping sites have historically relied on community-driven ratings or reviews as measurements of seller quality, STELLAService can now offer its expert-driven customer service ratings and seals as a significant complement, or upgrade, to the old seller rating system. Whereas community-driven ratings provide only subtle differentiation through a "one to five-star rating", for example, or allow for biased, unreliable reviews of a seller's service quality to influence a merchant's overall score, STELLAService takes a consistent, independent approach by evaluating every possible aspect of the online customer experience. As a result of its exhaustive methodology for measuring service quality, STELLAService is therefore able to communicate the Web's most objective, reliable and in-depth perspective on the service performance of online retailers.
"Research continues to show how important customer service quality is for online consumers," said Jordy Leiser, Cofounder and CEO of STELLAService. "By integrating our detailed, unbiased customer service ratings and awards into search listings, we are fundamentally improving the way consumers make their online purchasing decisions."
Online shoppers have shown that they are willing to spend more money and purchase more frequently if they know they will receive great service, according to a recent study conducted by Ovum, a part of the Datamonitor Group. The integration of STELLAService's ratings and seals within search listings will simply help guide and direct consumers to the retailers offering the best online customer experience, not only benefiting consumers but also retailers and comparison shopping sites through increased traffic, conversion rates and average order values.
Leiser concluded, "Since most consumers start their online shopping research with a search engine, it's only natural that our ratings and seals are pulled into each user's search results. As the leading provider of online customer service data and performance metrics, we have a tremendous opportunity to help point online shoppers in the right direction, saving them time, money and frustration while driving more highly qualified traffic to the online stores truly offering the best online customer experience."
About STELLAService
STELLAService is the first and only company dedicated to publishing objective, in-depth ratings on the customer service performance of online businesses. STELLAService adheres to the highest evaluation standards; it does not inform Internet retailers of the timing of its evaluations and pays for all products purchased from - and returned to - each website it evaluates. Retailers cannot pay to be rated nor can they influence the ratings in any way. The invaluable data obtained by STELLAService is used by consumers to make more informed online purchasing decisions and by companies to obtain crucial business and industry intelligence. Formed in April 2009, the company's Advisory Council and highly trained analysts represent today's thought-leaders in the area of online customer service. More information can be found at: http://www.stellaservice.com. For a complete listing of the STELLA Ratings, please visit: stellaservice.com/index.php/stella-ratings/view-ratings.html. Press materials are available at: stellaservice.presslift.com.
About TheFind
TheFind is a top 3 shopping search engine, according to comScore's measure of total visits, and from a base of 23 million visits per month it is also the category's fastest growing site. Unlike anything before it, TheFind is built on multiple patents that make it simple to shop any store and every store, all at once. With the inclusion of matching coupons, reviews, and local store information, TheFind makes smart buying decisions easy. Founded in 2005, TheFind has been profitable since late 2008. TheFind is headquartered in Mountain View, California, with offices in San Francisco and is backed by Bain Capital Ventures, Lightspeed Venture Partners and Redpoint Ventures.
###