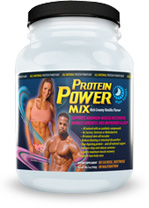 Plant derived stem cell science is now being used for natural protein supplement and is safe for vegetarian use from natural nutrition company, True Healthy Products
(PRWEB) November 25, 2011
The science of stem cells is now being used in an all natural, plant-based vegetarian friendly protein supplement called, "Protein Power Mix Nighttime Formula" from True Healthy Products, a natural nutrition and health supplement company out of Florida.
The Nighttime Protein Power Mix was formulated for True Healthy Products as a:
Slow burning protein, for a nighttime anabolic state
All natural carbohydrate source for energy restoration
Strong anti-oxidant to protect against free radical damage
All natural calcium for soreness, cramping, and bone density
Natural stem cell recruiter from eggplant extract to enhance muscle repair and muscle growth
A free guide on the Protein Power Mix Nighttime formula and its breakdown of ingredients can be viewed at:
http://www.truehealthyproducts.com/products/sports-nutrition/protein-power-mix/night-formula
On the company's website http://www.truehealthyproducts.com, Dr. Rob Shore's study is cited which shows eggplant extract to influence muscle healing because it contains stem cell recruiting activity. Dr. Shore's study states, "that eggplant contains an alkaloid which apparently acts on the acetylcholine receptors thereby enabling stem cell recruitment."
According to the formulator of Protein Power Mix, Andrew Wood, "When you workout, you damage muscle tissue. This damaged tissue sends out chemical messages which catch the attention of new stem cells. These stem cells flow to the injured area and begin healing it by forming new muscle fibers. When a stem cell recruiter is implemented into a fitness regimen, muscle repair is enhanced which constitutes greater muscle growth, reduced soreness, and improved recovery. Combine the acetylcholine agonist activity (stem cell recruitment) along with other crucial nutrients the muscle needs to recover and grow, and you have a very powerful protein mix. Hence, Protein Power Mix."
To learn more about the company's Protein Power Mix Nighttime Formula and incorporating it in a daily workout and eating regimen or to learn more about the company's other all natural products that are truly good for you visit TrueHealthyProducts.com.
Toll Free: 888-400-2920
2460 N Courtenay Parkway, #210
Merritt Island, FL 32953
USA
###