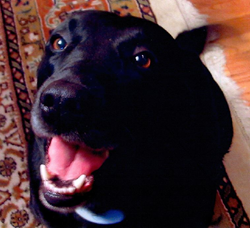 We chose Vet-Stem with Dr. McGuffin for a variety of reason, but number one was Quality of Life for Shiloh.
Dublin, Ohio (PRWEB) August 23, 2014
Riverside Drive Animal Care Center in Dublin, Ohio is utilizing stem cell therapy with Vet-Stem, Inc. to improve "Quality of Life" for older dogs in pain. Stem cell therapy has been shown to help decrease inflammation and pain for dogs with arthritis, regenerating damaged tissue, and improving range of motion, mobility, and quality of life.
Shiloh came to veterinarian, David McGuffin, at Riverside Drive Animal Care Center with osteoarthritis in both of her hips. Eventually she was prescribed an anti-inflammatory medication that she would take every day. Her owners thought it helped, but Shiloh was still not her active self, and began shying away from play time with her Labrador Retriever housemate, Duncan.
Shiloh's owners wanted her to be in less pain, have more energy and they wanted to see the "bright doggy smile" that she used to have. They sought alternative ways to treat her hip issues, "While cost was never an issue, when it comes to our dog family members this procedure was much less [in cost] than having both hips replaced eventually."
"We chose Vet-Stem with Dr. McGuffin for a variety of reason, but number one was Quality of Life for Shiloh. The procedure was less invasive, had less rehab requirements, and got her back to her long walks much quicker. We also liked that it provided the opportunity to do more than one treatment."
After Shiloh was designated a healthy candidate for stem cell therapy, Dr. McGuffin collected a small sample of fat from her and shipped it overnight to Vet-Stem's lab in California. Vet-Stem processed the sample and created injectable doses of stem cells to be shipped back, overnight, to Riverside Drive Animal Care Center. Within 48 hours Shiloh was receiving concentrated doses of stem cells in her arthritic hip joints.
"The results have been amazing and I know we made the right decision," Shiloh's owner went on to say, "She is back to tug-of-war and dragging Duncan on the driveway despite their size and weight differences. She has returned to running Duncan down when he is not behaving. She continues to chase down the squirrels and climb wood piles looking for chipmunks."
"It isn't a cure but it seems to have brought relief to Shiloh," said her owner, "And at the end of the day that is what we wanted for her; less pain and more energy."
About Vet-Stem, Inc.
Since its formation in 2002, Vet-Stem, Inc. has endeavored to improve the lives of animals through regenerative medicine. As the first company in the United States to provide an adipose-derived stem cell service to veterinarians for their patients, Vet-Stem pioneered the use of regenerative stem cells for horses, dogs, cats, and some exotics. In 2004 the first horse was treated with Vet-Stem Regenerative Cell Therapy for a tendon injury that would normally have been career ending. Ten years later Vet-Stem celebrated its 10,000th animal treated, and the success of establishing stem cell therapy as a proven regenerative medicine for certain inflammatory, degenerative, and arthritic diseases. As animal advocates, veterinarians, veterinary technicians, and cell biologists, the team at Vet-Stem tasks themselves with the responsibility of discovering, refining, and bringing to market innovative medical therapies that utilize the body's own healing and regenerative cells. For more information about Vet-Stem and Regenerative Veterinary Medicine visit http://www.vet-stem.com or call 858-748-2004.