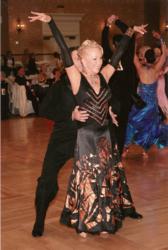 I just danced 6 hours in Houston preparing for the upcoming competition in Asheville and my knee isn't even sore.
Corpus Christi, TX (PRWEB) February 01, 2012
Pro/Am ballroom dancer and orthodontist, Dr. Janet Vaughan, is once again slated to compete on the professional dance circuit with her current professional partner, Mr. Eddie Stutts (Professional 10-Dance World Champion) following a successful stem cell procedure on her knee in Panama.
From 2007-2009, Dr. Vaughan partnered with World Champion Tony Dovolani and competed extensively in the U.S., winning a National Reserve Pro/Am Rhythm title. Tony Dovolani is best known for his appearances on ABC's hit reality series, "Dancing with the Stars", and has teamed up with Chynna Phillips, Wendy Williams, Audrina Partridge, Kate Gosselin, Kathy Ireland, Susan Lucci, Jane Seymour and other celebrities on the show.
Dr. Vaughan and Mr. Stutts are slated to compete in the Heritage Classic Dancesport Championships in Asheville, North Carolina next month. This will be the first time Dr. Vaughan has been able to compete since 2010 when she sustained a dancing related knee injury.
Dr. Vaughan also suffered from chronic neck pain resulting from injuries sustained in a car crash twenty years ago. Her neck injury culminated in a natural fusion of the c5-c6 vertebrae, scoliosis and extreme pain when her neck slipped out of alignment.
In an attempt to repair her knee and get her dancing career back on track, Dr. Vaughan decided to undergo stem cell therapy at the Stem Cell Institute in Panama City, Panama. "I was basically removed from competitive dance work because I could not rise or squat without extreme pain. I had also resigned myself to enduring chronic neck pain from my past accident and painful hand joints due to generalized arthritis," said Dr. Vaughan.
Dr. Vaughan 's knee was treated with stem cells that were harvested from her own adipose (fat) tissue.
The fat tissue sample is collected via mini-liposuction, which is performed by a certified plastic surgeon under light, general anesthesia. Mesenchymal stem cells and T regulatory cells reside within this tissue.
Adipose-derived cells are then separated from the fat at Medistem Panama's state-of-the-art laboratory at the prestigious City of Knowledge. This entire process is subjected to stringent quality control. Before they can be administered back into the patient, these adipose-derived stem cells are tested for quality, bacterial contamination (aerobic and anaerobic) and endotoxin.
All patients treated with adipose stem cells at the Stem Cell Institute wait about one week before the stem cells can be re-implanted to minimize the probability of the cells migrating back to the liposuction injury site. This essential procedural step separates treatment in Panama from "same-day" protocols offered elsewhere.
The adipose-derived stem cells are administered by a highly-qualified physician into the affected joint(s) (intra-articular injection) and intravenously (IV).
"It's taken about 6 months but I am amazed at the results I've gotten with my knee. Even my neck is better. I used to spend almost $1,000 per month on a neuromuscular massage therapist but I haven't needed any neuromuscular massages for the past 6 months. I wasn't counting on that. Even my doctors say that the dense scar tissue in my neck has changed in texture from grizzly to smooth, supple tissue," exclaimed Dr. Vaughan.
She continued, "I just danced 6 hours in Houston preparing for the upcoming competition in Asheville and my knee isn't even sore."
Dr. Vaughan is planning to return to Panama for a follow-up treatment this summer.
About the Stem Cell Institute
Founded in 2006 on the principles of providing unbiased, scientifically-sound treatment options, the Stem Cell Institute has matured into the world's leading adult stem cell therapy and research center. In close collaboration with universities and physicians world-wide, the institute's doctors treat carefully selected patients with spinal cord injury, osteoarthritis, heart disease, multiple sclerosis, rheumatoid arthritis, and other autoimmune diseases. Doctors at The Stem Cell Institute have treated over 1000 patients to-date.
About Medistem Panama Inc.
Medistem performs all stem cell processing for the Stem Cell Institute. It operates an 8000 sq. ft. cGMP and cGMP compliant laboratory that features 3 class 10000 clean rooms, 8 class 100 laminar flow hoods, and 12 class 100 incubators.
For more information on stem cell therapy:
Stem Cell Institute Website: http://www.cellmedicine.com
Stem Cell Institute
Via Israel & Calle 66
Pacifica Plaza Office #2A
San Francisco, Panama
Republic of Panama
Phone: +1 800 980-STEM (7836) (USA Toll-free) +1 954 636-3390 (from outside USA)
Fax: +1 866 775-3951 (USA Toll-free) +1 775 887-1194 (from outside USA)
###