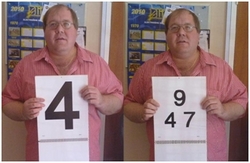 I hope that my success gives hope to other people who are in situations similar to mine.
Dusseldorf, Germany (PRWEB) November 17, 2010
A five line eye chart improvement and a newly regained ability to see colors, are everything 44 year-old South African, Johan Grove could have hoped for after his stem cell therapy treatment at the XCell-Center in Dusseldorf, Germany.
At the age of 15, Mr. Grove was diagnosed with fundus flavi maculatis, a type of retinal degeneration that causes the central vision to degenerate to a point at which neither reading nor writing is possible. This disease also affects color vision and the ability to discern details which is essential for facial recognition.
"Just 6 months after my diagnosis, I had lost over 50% of my eyesight. By 1991, when I finished school, my site had deteriorated much further. But in during the 29 years I've had this disease, I have never given up hope. By the time I found the XCell-Center, my sight was 90% gone. My time was, indeed, running out," said, Mr. Grove.
Seven months after treatment, Mr. Grove went back to his ophthalmologist. He was informed that his eyesight improved from 6/360 to 6/120. As seen in the picture, he is now able to read substantially smaller letters than before.
"My color vision has also improved since treatment. Before stem cell therapy, I could only distinguish between light and dark colors. Now, I can actually see colors like dark brown, green, blue and purple. It's great!" exclaimed Mr. Grove. "I hope that my success gives hope to other people who are in situations similar to mine," he concluded.
The treatment begins by collecting a small amount bone marrow from the patient's hip bone using a thin needle under local anesthesia. The stem cells are then separated from the bone marrow at the XCell-Center's EU certified cGMP laboratory (current good manufacturing process). Before the cells leave the lab, they are counted and their vitality is confirmed. The last step of the treatment is minimally invasive retrobulbar implantation; a procedure by which the stem cells are injected just behind the eye by an experienced ophthalmologist. The procedure usually takes 20 - 30 minutes.
The cost of the XCell-Center's retrobulbar stem cell eye treatment is 10,545 Euros.
About the XCell-Center
The XCell-Center operates treatment centers in Cologne and Dusseldorf, Germany. It is the first clinic in Europe to specialize in regenerative medicine using autologous bone marrow stem cell therapy and operates in accordance with German law, European guidelines and ISO 9001. Its specialized medical team of German physicians includes specialists in: neurosurgery, orthopedics, cardiology, radiology, anesthesiology and pharmacology.
The XCell-Center also treats Diabetes and its complications (Erectile Dysfunction and Peripheral Artery Disease), Stroke, Cerebral Palsy, Autism, Spinal Cord Injuries, Orthopedic diseases, Heart Disease and degenerative diseases such as Multiple Sclerosis, Parkinson's, Alzheimer's and several eye diseases.
Since its inauguration in 2007, more than 4,000 patients have been treated.
For more information on Stem Cell Therapy:
XCell-Center Website: http://www.xcell-center.com
Twitter: http://www.twitter.com/xcellcenter
Facebook: http://www.facebook.com/XCellCenter
XCell-Center GmbH (At the Institute for Regenerative Medicine)
Am Heerdter Lohweg 85
40549 Dusseldorf, Germany
Phone: 1-866-680-8202 (USA Toll-Free) (+49) 0221-802-5095 (Germany)
Fax: 1-713-583-9322 (USA) (+49) 0221-2921-2550 (Germany)
# # #