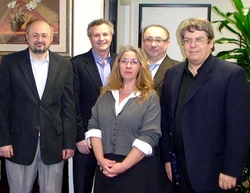 I was glad to have the opportunity to visit Stemedica and get to know more about its leadership, plans for the future and to see first hand the assets and potential they represent to the stem cell movement in California
San Diego, Calif. (PRWEB) March 2, 2009
Leadership of the California Institute for Regenerative Medicine ("CIRM") completed a two part visit to Stemedica Cell Technologies, Inc. ("Stemedica") to tour its manufacturing facility, R&D lab and corporate headquarters.
"I was glad to have the opportunity to visit Stemedica and get to know more about its leadership, plans for the future and to see first hand the assets and potential they represent to the stem cell movement in California", said Dr. Alan Trounson, President of CIRM. "We want to have strong working relationships with all sectors of California's stem cell industry, including for-profit companies like Stemedica."
Prior to Dr. Trounson's visit, Dr. Marie Csete, CIRM's Chief Scientific Officer had the opportunity to visit Stemedica's manufacturing facility and R&D laboratory. "We're delighted to see Stemedica make the effort to secure a clinical grade manufacturing license from the State of California. We believe this capability will aid numerous organizations in California and around the world in their efforts to manufacture stem cell products for clinical application", said Dr. Csete.
"We were pleased to have Dr. Trounson and Dr. Marie Csete visit our facilities and receive a briefing from our leadership", said Dr. Maynard Howe, Stemedica's Vice Chairman & CEO. "We continue to play a pivotal role in the evolution of the stem cell industry in California and believe a supportive working relationship with CIRM is an essential part of this process.
Stuart Lipton, M.D., Ph.D., Scientific Director and Senior Vice President of the Del E. Webb Center for Neuroscience, Aging and Stem Cell Research at the Burnham Institute for Medical Research, San Diego, CA, joined Dr. Trounson during his visit to Stemedica's manufacturing facility. "I was impressed with the progress that Stemedica has made on the licensing process for clinical grade allogeneic stem cell manufacturing and am excited about expanding our research relationship with the Stemedica team. Having a manufacturing resource like this in California will be a great asset to our entire research community. I anticipate that many CIRM-funded stem cell research institutions will take advantage of Stemedica's manufacturing facility that will soon become FDB (Food & Drug Board) cGMP licensed."
Dr. Nikolai Tankovich, Stemedica's President and Chief Medical Officer organized the visits for Dr. Trounson, Dr. Csete and Dr. Lipton. "We're delighted that these outstanding leaders within California's stem cell movement took the time to find out more about Stemedica and our plans to lead this industry from a manufacturing standpoint. We will continue to seek the wise counsel of CIRM in an effort to align our efforts with theirs. In addition, we are expanding our collaborative research efforts with the Burnham Institute for Medical Research and several other California stem cell research institutions", said Dr. Tankovich.
About Stemedica Cell Technologies, Inc.:
Stemedica Cell Technologies Inc. (http://www.stemedica.com) is a specialty biopharmaceutical company that is committed to the development and manufacture of best-in-class adult stem cells for use by approved research institutions and hospitals for pre-clinical and clinical studies. Within the United States, the Company is currently developing regulatory pathways for stroke, traumatic brain injury and wound repair. Outside the United States, Stemedica provides its adult stem cells to hospitals and research centers that are conducting studies under protocols approved by the appropriate regulatory agencies. These studies are focused on the treatment of neurodegenerative disease, sight restoration and wound repair. Stemedica is based in San Diego, California.
About CIRM:
The California Institute for Regenerative Medicine (CIRM) was established in 2005 with the passage of Proposition 71, the California Stem Cell Research and Cures Act. The statewide ballot measure, which provided $3 billion in funding for stem cell research at California universities and research institutions, was overwhelmingly approved by voters, and called for the establishment of an entity to make grants and provide loans for stem cell research, research facilities, and other vital research opportunities. To date, the CIRM governing board has approved 229 research and facility grants totaling more than $614 million, making CIRM the largest source of funding for human stem cell research in the world. For more information, please visit http://www.cirm.ca.gov.
Media Contact for Stemedica: Dave McGuigan at dmcguigan (at) stemedica.com.
# # #